Skip to content
Skip to navigation
SIENA, PART I.
This is where most times I'd say that Strade Bianche should be a Monument, bla bla bla. Call it whatever you want, but there's zero question that this is one of the absolute best days of bike racing each year. The route is perfect - with barely any down time characteristic of the longer races. The final part of the race, from the beginning of San Martino in Grania to the finish line is a relentless string of ups and downs, turns, dirt, pavement, tiny roads, gorgeous views - it's nonstop action, and it's awesome - every bit of it. I love this race more than any other, and one part of me is sad each year while walking back to our car in Siena after a wild day on the moto. So that's it, my favorite race of the year...done...already.

I kind of love that.
EARLY GOING.
For a day as very clearly focused on one thing: dirt, and lots of it - it always feels a little silly to shoot anything else, therefore, I try to. There's more out there than just the dirt...as I also include some images from the first settore sterrato (gravel sector), Vidritta. It's maybe the easiest sector of the day - flat, smooth, straight. You can't say that very often for this route.
STYLE.
And for our first interlude, two of my all-time favorite clothing choices. Side by side. You're welcome.
IT'S DIRT TIME.
The women's race started two and a half hours before the men's race, so while I was just getting started, Ashley was deeeep into the women's race. We'll pretend that they're semi-concurrent in their runnings though just for ease of storytelling.

In the women's race, EF-Tibco's Emily Newsom found herself away and alone for a huge chunk of the race, while on the men's side, nine riders slipped away almost instantly - with no response from the peloton. They were allowed a solid early gap as things started out relatively calmly in both races...considering what was to come.
LUCIGNANO D'ASSO.
For me, the men's race always, always comes alive on the monster sector of Lucignano d'Asso. Sector #5 is the longest of the day at 11.9 kilometers, and it's almost always buffeted by blasting winds. You know the famous section of Gent-Wevelgem that's always wind-blasted, De Moeren? This is that - in Tuscany. It's also the most beautiful, lonely spot on the entire route. I love it so much.
HEAVEN.
I had a shot in mind for the breakaway, so I focused all of my attention on trying to get it right. I didn't take any approach shots of the peloton on the distant ridge with Monte Amiata looming behind - nothing at all. It was so hard to do that for me - a completely ADD photographer who can't sit still or pay attention to anything for more than approximately 75 seconds. So, I made this shot of the break. I had no idea if it worked, but I was happy I tried...and so I sprinted to the more classic shot next to the road.
CHAOS.
And moments after that shot of the breakaway in the clouds, I was sprinting across to where I hoped to shoot the peloton. I had worked out my plan beforehand, so when the break exited my viewfinder, I jumped up and ran as fast as I possibly could once I realized that the gap that was previously five and a half minutes was now under a minute.

It took me 47 seconds from my last shot of the breakaway to the first shot of the peloton, and wow, what a change it was - from riders in the clouds to riders in the dirt. It's moments like this where I wonder if I should have changed my plan - and looking back - yes, sure, I probably should have just stayed right where I was, but there was no way for me to know that THIS (one of the crazier crashes I've ever been around for) was about to happen.

That whipping wind across those open fields combined with a bike race made the nearly inevitable happen. This isn't the first or third time I've watched riders go down in this spot. In one of our earlier visits to this race, we watched a rider crash out of the break in this spot - just got blown completely off the road. Another time, a Trek rider stood in the road with his bike blown sideways next to him - if he hadn't been holding it, it would have flown away. Speaking of flown away, there was that time that Elia Viviani's flatted wheel actually flew away.

It's just that this time, it involved almost the entire peloton - and the crash happened at the very front. It was absolute chaos.
TUSCAN DUDES.
Ok, let's take a quick break from the carnage to appreciate the roadside views and the classic dress of rural Tuscan males.
PIEVE A SALTI.
The sector of dirt following Lucignano d'Asso, Sector 6: Pieve e Salti, all eight extremely lumpy kilometers of it, is generally one that's used to get back on terms after spending a ton of time shooting the gorgeous fields of Lucignano d'Asso right before it. This year, however, everything was different. The entire caravan was trapped behind the wreck and group after group after group was desperately trying to connect with the riders in front of them - and on and on and on. Because of this, it became a truly riveting experience on the moto.
BUONCONVENTO.
Somehow, the breakaway - those poor riders that seemed doom to getting caught way, way early in this year's edition - suddenly got new life breathed into their effort with the race altering crash behind. So, for the first time ever, we got the chance to shoot on the straight paved road that connects the opening part of the race to the business end, which starts with San Martino in Grania.
SAN MARTINO IN GRANIA.
Sector 7, San Martino in Grania, comes with about 70 kilometers to go in the men's race - and about the same in the women's race. It's the first time we see the favorites coming forward with their eyes on making something happening. No race defining moves ever seem to occur here, but this sector sets up the truly defining sector of Monte Sante Marie. Monte Sante Marie wouldn't be half as entertaining without San Martino in Grania. San Martino lifts up Monte Sante Marie, so that it can be the giant that it is - like any good partner.

In the women's race, Emily Newsom still bravely soldiered on at the head of affairs. Her time out front was numbered though and would end as this sector came to a close, 9.5 mostly uphill kilometers later.
SAN MARTINO IN GRANIA'S FINALE.
It's at this point that I think it's worth mentioning that people should get angry about the absence of Monte Sante Marie from the women's race. It made top news last year at the first women's Roubaix when the Arenberg Forest was left off the women's route, but that at least made some sense: Arenberg would have come in nearly the first opening instant of the women's race, which starts in Denain. Not ideal. Monte Sante Marie's absence from the women's race is a huge, gaping loss to a spectacular race route - and a chance to see the women's race open up from a long way out. Instead, a selection is made in the women's race on this difficult section, and then the race goes relatively quiet for almost an hour. In the men's race, the dial gets turned up on San Martino in Grania - just as in the women's race - and then the dial is turned so far to the right, and so hard, that it breaks completely off just over ten (mostly downhill) kilometers later.
SAN MARTINO IN GRANIA: THE WOMEN.
The first time you come up San Martino in Grania and see that wall of curling switchbacks in front of you is so good. Sure, it's hard, and sure, it's highly likely there's some suffering, but it's objectively wonderful. When you add in a crowd lining the way up to the ridge road above - it's absolutely wonderful.

Simply put, it feels like this road was designed for a bike race.
BOTTLE!
Always an absolute necessity, but somehow, we never seem to be in the right place to capture these crucial moments. Ash was there this time, though.
SAN MARTINO IN GRANIA: THE MEN.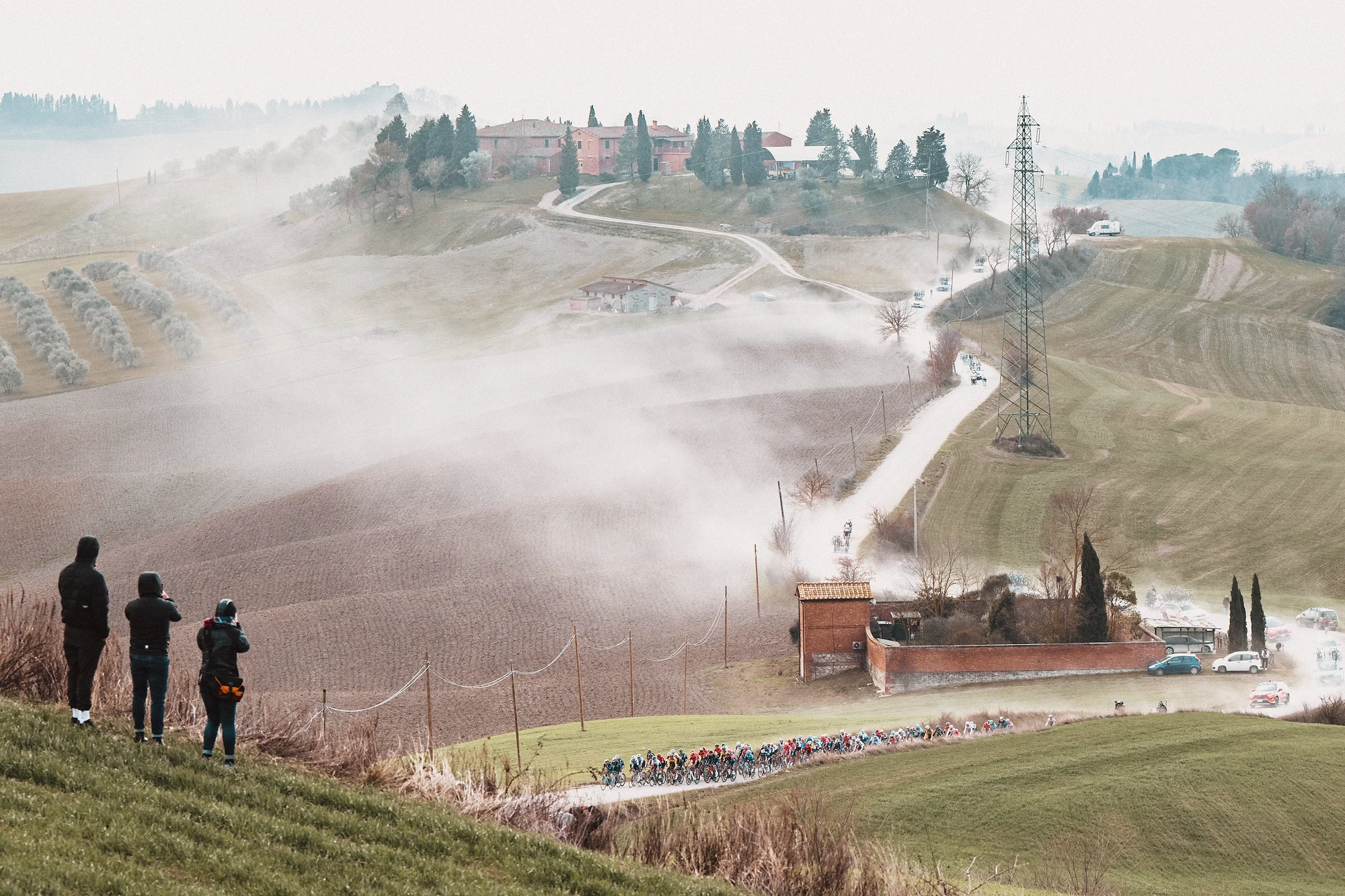 ROADSIDE FINALE.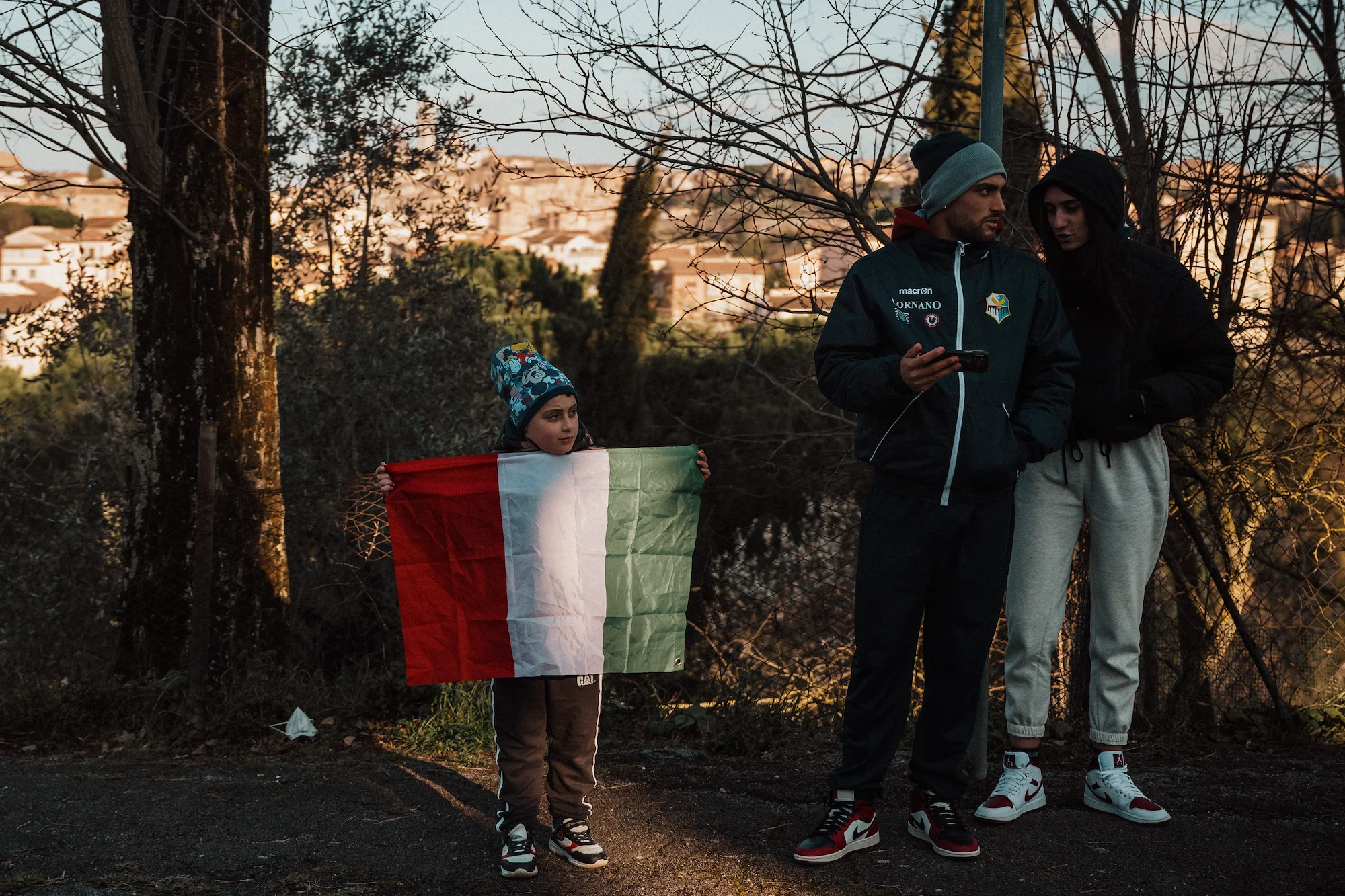 THE RACE AFTER THE DIRT.
As I mentioned before, the women's race finishes San Martino in Grania in utter disarray - then reassembles on the road back towards Castelnuovo Berardenga and beyond. Don't get me wrong - it's gnarly - and there's much racing to be had - but no one can argue with a straight face that things wouldn't be another level better if they made a right turn at the top of San Martino in Grania instead of a left turn.

I will get off my soap box now.
MONTE SANTE MARIE.
And here we have Tadej Pogacar doing the things that Tadej Pogacar enjoys doing: ripping bike races to shreds and smiling about it. I think we as cycling fans should all be thankful that we live in an era of absolutely aggressive, dripping with panache bike racers like Pogacar, Alaphilippe, Van der Poel, Van Aert, Bernal, Pidcock, etc etc etc. It's a new Golden Era of heroic exploits and nonstop action - and I'm here for it.
MONTE SANTE MARIE, CHAPTER II.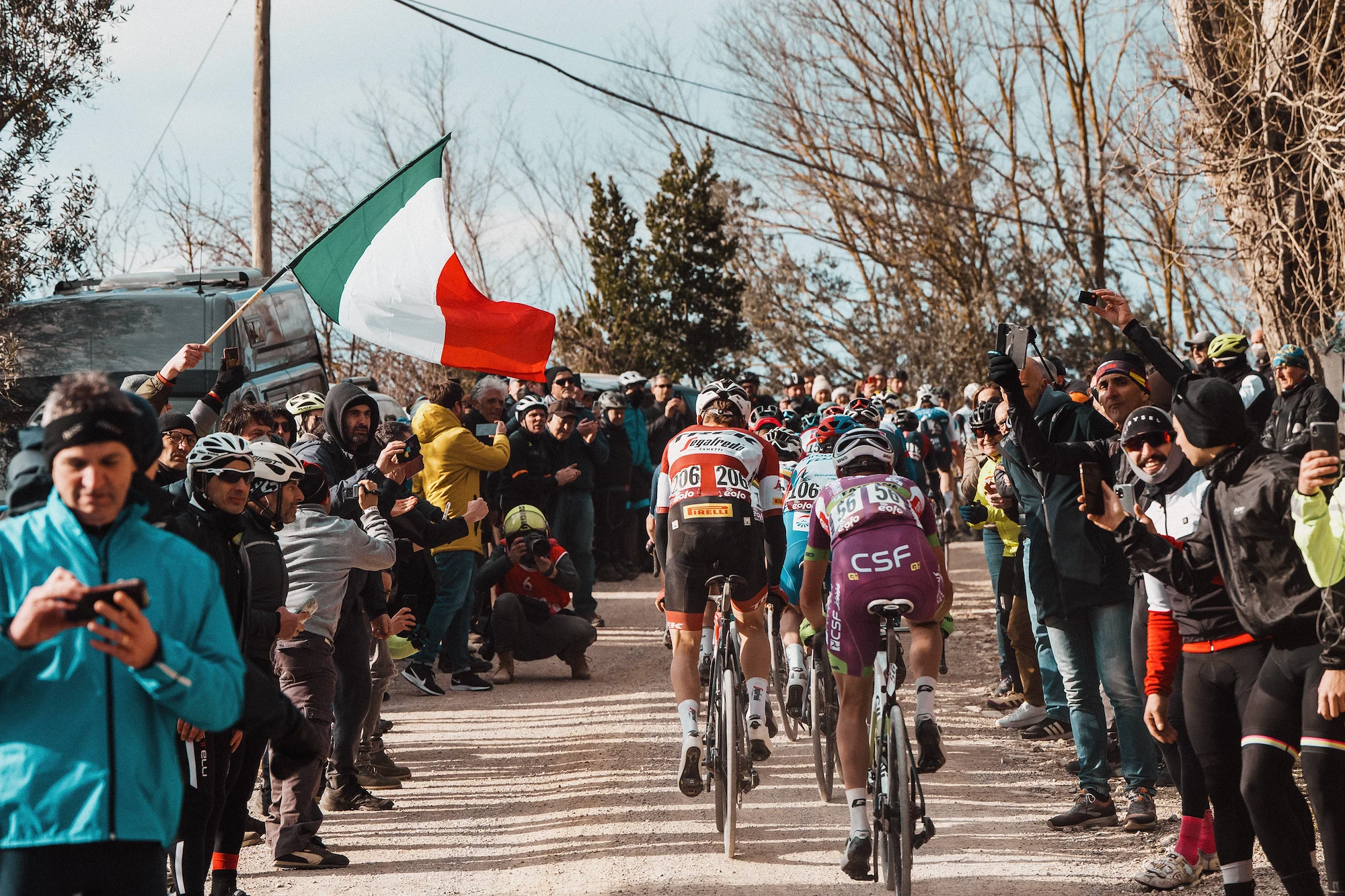 ALAPHILIPPE LEADS THROUGH HEAVEN.
Is there any other way to describe it? For me, this is one of my favorite spots anywhere. I could sit here and picnic and just look out at the world every, single day. It's even better when Alaphilippe rolls by front and center.
MONTEAPERTI: THE WOMEN.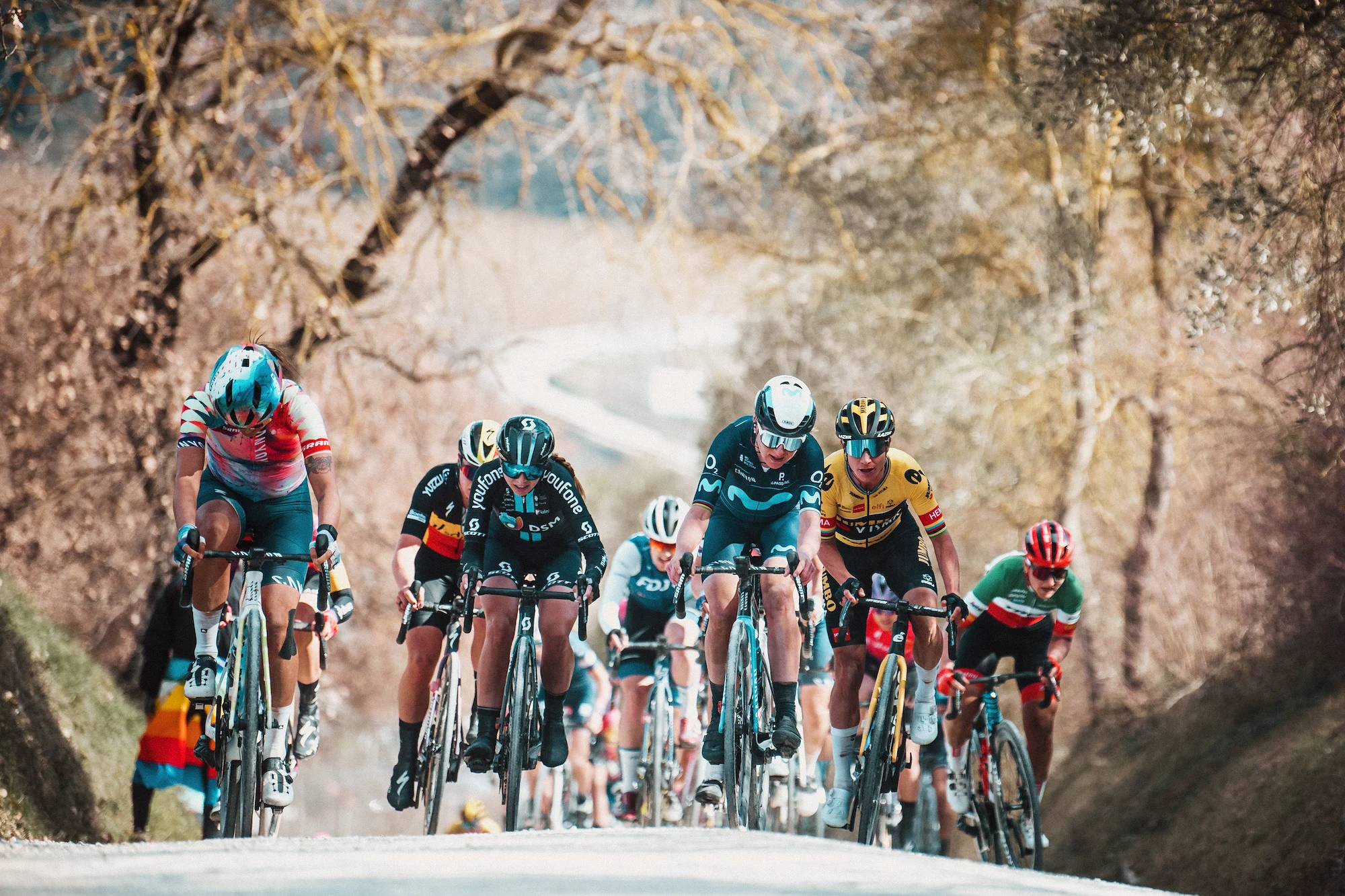 THE TADEJ SHOW.
Once Pogacar got away and put some solid space between himself and everyone else, I got to play for the first time ever in this moment. Usually, it's all about getting back on terms with the race after falling far behind after shooting for too long on Monte Sante Marie. This year, we managed to get back in a good spot really quickly and were able to enjoy The Tadej Show.
CYPRESS HILL.
Sector 9: Monteaperti, gets a lot of attention as a short, steep, violent little punch in the face, but so, so many times, the race has exploded right after that bit of dirt. It's an unnamed hill that takes about one painful minute. We call it Cypress Hill, for the beautiful row of cypresses that line the top of it. It's a fun spot to shoot, because the 1-2 punch of these two hills always brings out the best in the riders - and the suffering. It's a quintessential example of just how hard this route is. The dirt climb gets all the attention, but about one minute later, riders are doing the exact same thing again. And again. And again. It's relentless.
LE TOLFE: THE WOMEN.
The collective aggression of the women's race, which basically amounted to everyone against Annemiek, set the stage for a dramatic ascent of Le Tolfe. Despite having to cover an avalanche of moves, Annemiek still put in the expected attack - which only Belgian champion, Lotte Kopecky, could follow.
LE TOLFE: THE MEN.
Some hours later, Pogacar continued doing his thing - but with a much more anguished face. In fact, I'd say most everyone's face was very much of the ouch variety on this climb - while everyone who wasn't climbing Le Tolfe looked to be in absolute ecstasy. Funny that.
SANTA CATERINA!
And finally, the capstone of an already perfect day - Siena. The climb of Santa Caterina is hard, hard, hard - but it's also, without exaggeration, one of the best finishing anythings in cycling - and then we add in the Piazzo del Campo? Swoon.

The three best finishes in cycling: Siena, the Roubaix Velodrome, and the Champs.
THE FINISH LINE.
I had just joked with Ashley that there had never really been a sprint into the Piazza...well, this year there was. It used to be that the race was decided at the top of Santa Caterina, then there were a few editions where a pass just after it set up the win, and then there was this year with Lotte Kopecky taking the daredevil dive through the final turn to take the win. I also recently said that nothing ever happens on the Bosberg, so I'm just going to stop my punditry pronto.
AFTER THE LINE.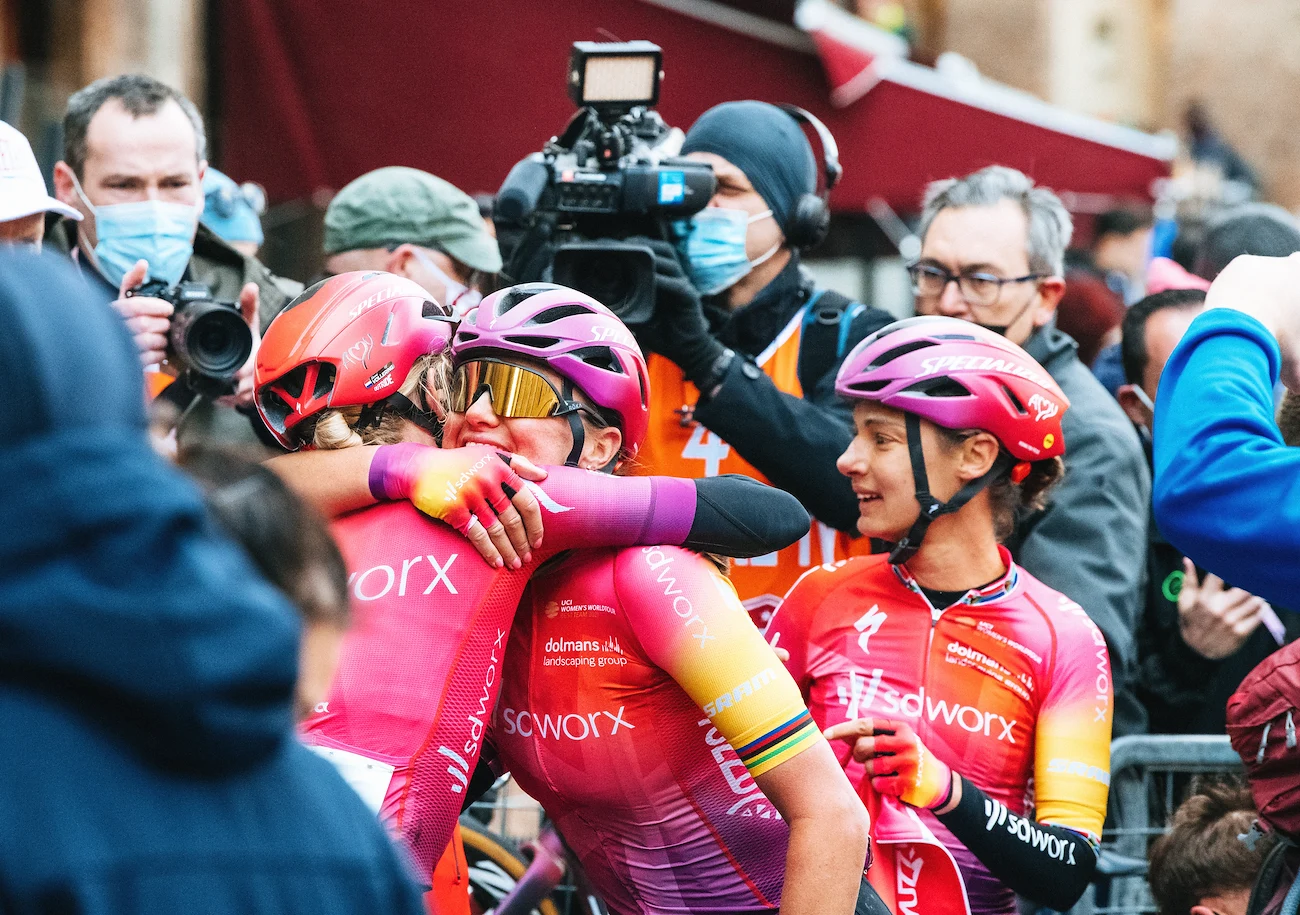 HAPPY DAZE.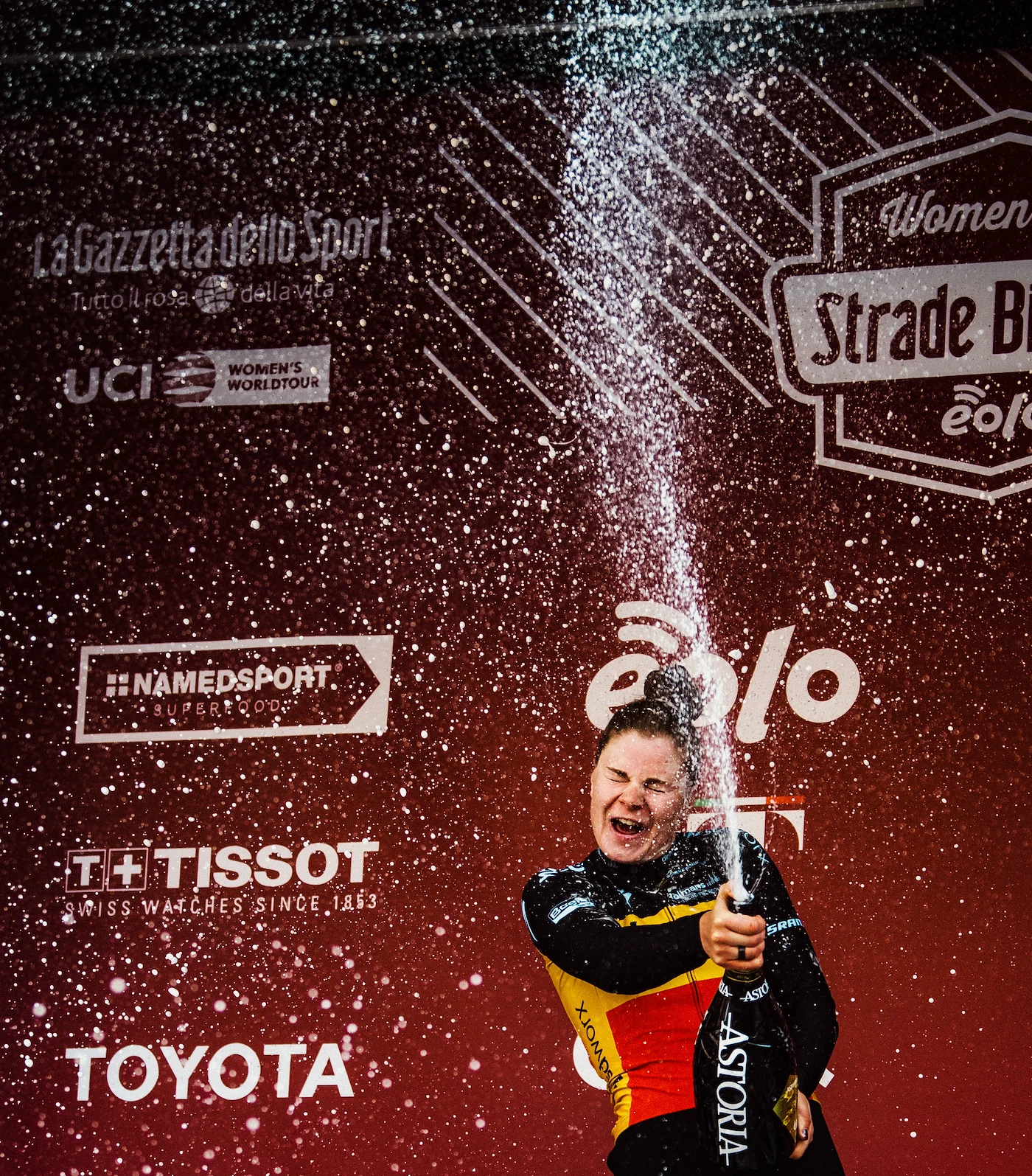 THE PRETTIEST SPOT?
And for the grand finale, Ashley was in that beautiful spot just above the Piazza del Campo. There are three spots on the route of Strade Bianche where I'd happily laze the day away: the beautiful field on the Lucignano d'Asso sector, the end of Monte Sante Marie, and this little cafe that overlooks the Piazza del Campo.
VALVERDE. WOW.
He's still got it, after all these years.