Skip to content
Skip to navigation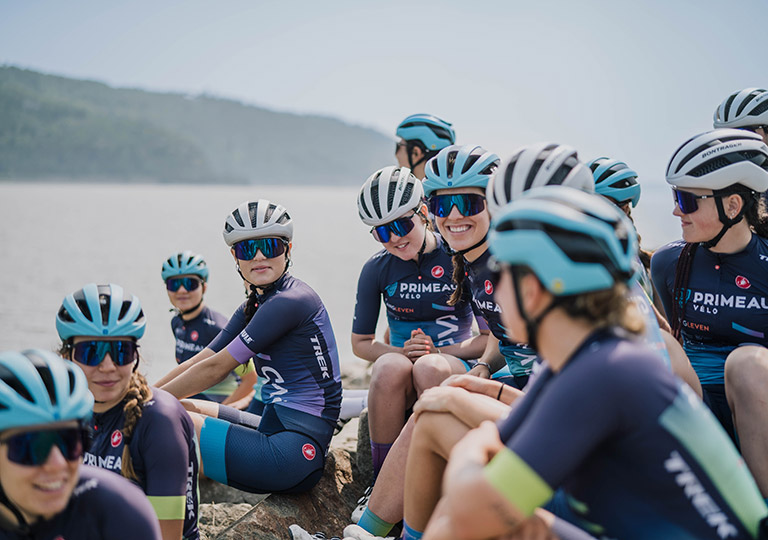 Women's cycling picks up the pace
Primeau Vélo Racing is not only Canada's largest all‑women's cycling team, with members from British Columbia, Quebec, and Alberta, but also the only UCI team in Quebec. Clearly, this is no ordinary cycling team, and this is reflected in its people-first philosophy centred on life balance, mental health, education, self-confidence, and self-improvement.

The Primeau Vélo Racing (PVR) team is made up of nine UCI Continental athletes, led by manager and coach Christine Gillard. Gillard also co-manages the Primeau Vélo Développement (PVD) team, which is made up of seven senior and four junior athletes, with Janie Rioux-Coulombe.
Supporting women's teams
For Castelli, the partnership with Primeau Vélo was not only a natural fit, but also deeply meaningful. Promoting women's cycling quickly became a mission for the brand in Canada. This same mission was shared by Gérard and Joan Penarroya, who dedicated many years of their lives to managing and supporting women's cycling teams in Quebec. When they finally retired in 2022, the partnership with Primeau Vélo presented itself as a new challenge, but also as an extension of the work that was started a few years earlier.
Castelli makes no compromises when it comes to kitting out the women cyclists on the PVR and PVD teams. The athletes receive the same Italian-designed clothing as the European pro teams. The goal is to give them the opportunity to train, race, and develop their skills with the best possible equipment so they can achieve their goals.
ROLE MODELS FOR THE NEXT GENERATION
Until recently, young athletes like Pénélope Primeau of the PVR team didn't see themselves pursuing a career in cycling beyond a certain level. Primeau Vélo allows its athletes to imagine a future in cycling by giving them access to a higher level of training and racing, while providing them with the discipline and structured training framework they need to succeed.

Strong role models are crucial to the development of a team of athletes. Christine Gillard is considered a role model for many of her riders. A former racing cyclist herself, she inspires every member of her team with her determination, commitment, and dedication. In turn, the PVR athletes have the opportunity to inspire others by participating in a mentoring program for girl athletes. This initiative is intended to strengthen athletes' sense of belonging and help build a sustainable movement for the development of women's athletics.
Maintaining momentum
We are currently witnessing a transformation of women's place in cycling. This is due to a number of factors, including, in no small part, the addition of women's categories to cycling events and the creation of cycling clubs and communities for women. The number of women participating in the sport is also growing, which is having a tangible impact on racing teams and the opportunities available to them. All of these factors are helping to democratize cycling for women. By opening up opportunities and cultivating a safe, welcoming environment, we can create an inviting, motivating atmosphere in which learning takes centre stage.
What sets the PVR and PVD teams apart from other teams is the incredible women who make up and lead them. Their drive and experience, as well as the spirit of support and camaraderie they foster, are the secrets to a successful, close-knit team.

And now, the future of women's cycling is taking shape before our very eyes, thanks to the support of Primeau Vélo, as well as key contributors like Christine Gillard, Gérard and Joan, and Pierre from Castelli Canada. All of these people have one thing in common: the desire to see women's cycling reach new heights. Supporting women's teams not only helps to secure the future of women's cycling, but perhaps most importantly, it contributes to the development of tomorrow's role models and the next generation of athletes.
Article by: Béatrice Perron
Images: Primeau Vélo - Samuel Gray (Image 1-9, 11-13) and Christian Martin (image 10)