Skip to content
Skip to navigation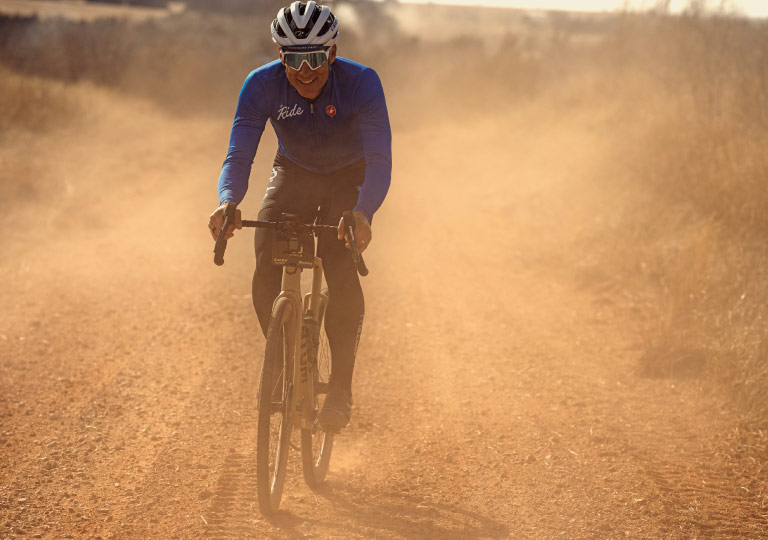 Going Solo: Taking a Flyer
After 20 years covering pro cycling and gear at outlets like VeloNews, Cyclingnews, BikeRadar and others, Ben Delaney started his own YouTube channel in 2022 called The Ride. Ben has worked at all the big races: the Tour de France, the Giro d'Italia, the world championships, the Tour of Flanders... In addition to covering pro athletes and their gear, he's ridden hundreds of bikes himself, and in recent years he's been enjoying testing gravel bikes in events like Unbound Gravel, Belgian Waffle Ride, and SBT GRVL.
Gravel riding and racing has more than exploded in recent years, and I've gone from making fun of it to embracing it wholeheartedly. I love several things about gravel, but perhaps chief among them is the fact that I don't have to choose between being a journalist covering the race and being a participant. I can do both.
The variety and adventure and accessibility of gravel has been invigorating for me and many others. There is not yet agreement on what exactly this discipline is, or what it should look and feel like — and that makes it fertile ground for finding and telling stories.
Social media is full of so-called influencers who are paid by bike brands for promotion. That's not what I'm doing. Instead, I've been careful not to take money from the brands whose bikes I am testing. I am continuing to operate much like I did when I was editorial director at various media outlets, requesting bikes and gear for test, and then returning it after testing. I am proud to have the support of Castelli, Giro and Feedback Sports — brands that make great cycling products in categories that I am not covering as part of my testing.
What's the best bike? What's the ideal tire? Aero bars - yes or no? Are tire inserts a help or a hindrance? Should teamwork be a thing in gravel?
While some of these are debatable, the best equipment often depends on where you live and how you like to ride, and I've been looking for answers by testing as many bikes as I can in diverse locations, and then sharing my honest opinions via video.
Similar to how gravel has ushered in the privateer concept to our sport (the idea that a pro rider could go it alone could assemble their own collection of sponsors and decide which races to do and how to act and speak) I have become a privateer journalist with my new YouTube channel The Ride. It's no secret that the cycling media world is struggling, and I've twice been a casualty of contracting budgets and rounds of layoffs. Instead of going back into that same format, last fall I took a flyer and gambled on myself, betting that I could build enough of an audience over time to make a living.
At this point I believe I've tested more gravel bikes than anyone on the planet, and I'm confident I have tested more bikes in gravel races than anyone. Last year I won SBT GRVL and got third in Unbound Gravel in the 100-mile editions, and then was able to cover the pros and their gear in the longer events finishing a couple hours later. And while the pros can't always be completely forthright about their gear, I can. I'm not claiming to be a pro-level rider, but I am a pro-level journalist who is enjoying a new privateer style of work and cycling's ever-evolving gear and culture.
While recreational racing is a great testing ground for bikes and gear, much of the more thoughtful testing happens away from the racing. Races can be pretty frantic, and I'm often just thinking about not crashing or finessing a draft or trying not to get dropped. Back-to-back testing of bikes or gear is the best way to suss out differences, and that's something I try to do often. Repeating the same stretch of road or tricky trail on a few different tires — or even the same tires at different pressures — is helpful for me. All that said, the fact that racing often is frantic can be helpful. For instance, it's pretty easy to navigate a bike computer when you're riding along by yourself; but can you get to the information you need when you're banging along in a dusty group? Similarly, flat tires happen way more often in racing simply because you often can't see or choose your line when in a bunch, so racing is a great test for a tire's durability.
Another reason I like testing in racing is that it's a good story! Both in terms of narrative and visuals. I often joke that either I'll have a good race (which is usually an anonymous finish) or a good story (something goes horribly wrong in a hopefully funny way). Some people are interested in the events; some people are interested in the bike or gear I'm testing. So I try to talk about all of it as concisely as possible.
It's a different business model, and success certainly isn't guaranteed! But I've been enjoying the freedom of covering whatever I want, however I want, with the honesty that I hope you both appreciate and find helpful. I love the interaction with riders through comments on YouTube and Instagram — and in person at events. We bike nerds love to talk about bikes and riding…so please keep the comments coming.
What's Next – New bikes and races are always just down the road! I just produced a course preview video for the first USA Cycling Gravel National Championships. coming up in a couple weeks, and I'll be doing more races and testing bikes in the coming months. Stay tuned!