Skip to content
Skip to navigation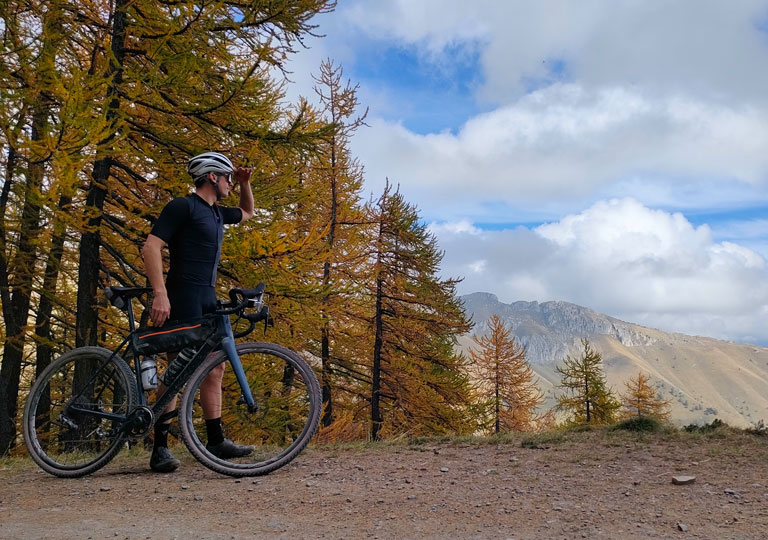 "RIDING GRAVEL GIVES ME HOPE"
I'm in Melbourne (AUS) on a project for a client as jetlag strikes. I lie in bed all awake struggling to calm my thoughts, it's 2.30am. I'm going to visit Piedmont (ITA) with friends for two spectacular gravel rides in two weeks' time.

Suddenly, I'm getting all anxious. Fall had struck quickly and it's pouring in Europe at the moment. I must have looked up about 7 different long term weather forecasts and they all predict doom and gloom. All I want is two more days of mild autumn weather… Let's hope for the best!

We are going to ride on history trails dating back to the late 18th century when Europe looked quite different. Monarchies were the norm and borders were…flexible. Our first ride starts in Susa, just west of Torino. A city in a narrow valley that has been a crossroads and important hub for trade and politics long before Torino was even founded.

This strategic role of the region explains several fierce battles that took place here. Men who fight and die in miserable conditions for greed and hunger for power of a few. I think a lot about this during the night drive to Italy. Humanity didn't learn anything from the past and as I write this, men fight and die for the greed of a few.
After 6 hours of driving, we quickly change onto our gravel bikes. It's foggy in the valley and right out of the gates, we start the first climb, the iconic Colle de Finestre. A long winding and narrow road that climbs for 18 kilometers through dense woods on the Northern edge of the Alps.
Nine kilometers into the climb you find a fountain – don't miss that one it's going to be your last chance to refill your bottles for a long time. Here the road turns into gravel – quite smooth for most of the climb, but the heavy use of offroad vehicles leaves its trace.
The Giro d'Italia was here in 2005 and 2015 and while it took the fastest pro's a mere hour to conquer the 1700ish meters of altitude we enjoy a casual pace and soak in the scenery. A few meters before the top of the climb, we break through the fog and see blue skies and the warm autumn sun –the wide opening of the Val Chisone in front of us looks like a Monet painting.

The descent would head to Fenestrelle where a remarkable fortress of 2km length (Fortezza di Fenestrelle) reaches from the bottom of the valley all the way to the top of the ridge - it's the second longest covered staircase in the world after the Chinese Wall.

We leave this for today and turn onto a famous gravel road after a few switchbacks: the Strada dell'Assietta. This road is a long winding gravel band that lingers along the hillside of Val Chisone under neath the ridge that separates it from Val Susa. Gradual inclines are interspersed with steep pitches and switchbacks for more than 30 kilometers. The surface and the altitude make it a demanding route, but the stunning views are distracting from the effort.
Once you reach the Colle dell'Assietta, it's worth to turn around for an out and back section of slightly narrower rough gravel up to the Fort Gran Serin, where in the 18th century more than 800 soldiers were stationed at 2600 MASL. The ruins are a testament of time and like so often it's hard to fathom how life and work up here must have been.
We carry on west on our route reaching the soldiers monument, a tall spear, crowned with an eagle. From here it's all downhill. Sometimes gnarly and rocky, but doable on a gravel bike. The last meters are lost on a ski slope to Oulx, where we re-enter today's world and stop for coffee and dolci.
You notice how slowly you progress on this terrain and thus we chose what seems the easy way back to Susa. The main road is a relaxes downhill, yet a fierce headwind asks some extra watts we grudgingly unleash from our tired legs. What a great day and the best is yet to come.
WHEN GREAT TURNS INTO SPECTACULAR
After a good night's sleep, we change base and head further South to the Cuneo region. In the small town of Limone, we start day two of our Piedmont Gravel expedition. This was the actual showstopper of our journey: the Alta Via del Sale (Upper Salt Road). In the dark ages tradesmen transported goods from the near Mediterranean Sea to the northern plains of Cuneo.

North of Nice and San Remo, long valleys reach up to a crammed huddle of insanely pretty mountains – sometimes naked faces, sometimes with sturdy forests or clad in mountain pastures. It looks too pretty to be made up.

Again, it's a former military road with several military landmarks following the main Alpine watershed near the border between Italy and France, at altitudes between 1,800 and 2,100 meters that crosses many thrilling passes. The road stretches out for approximately thirty kilometers.
It's incredibly warm today and you can feel the second day of rough gravel riding at altitude. Today's surface is a handful, and the combination of rough gravel, sharp rocks and steep pitches is quite demanding. We are heavily underbiking in the downhills and are surprised how much tires and frames can swallow. Carried away from the scenery and a little hypoxic we cannot help but screaming with joy.
There are many ways to connect the Salt Road, many ride it from point to point heading down to the coast or leaving it at Monesi – back to tarmac. We decide to make the full loop dropping from the Taranello pass down to the French village of La Brigue.

Dropping down sounds almost too smooth, the downhill is a true bone shaker. The dry summer brought even rougher rocks to the surface and the almost 1600m we need to lose feel like a torturing eternity. You must earn your turns, I guess.

And, as if this would not be enough, I am guiding my gravel friends down a gnarly single trail that is rather suitable for goats than gravel bikes. The entire descent sets our brakes on fire and breaks our shoulders and hands to pieces. It's rare that I long for tarmac on a day like this, but we do now.
Suddenly you get the whole riviera vibe. The architecture, the sleepy towns, and the fact that almost no café or shop is open reminds us that we are in the South of France. This is something to be considered when riding the Salt Road. There are almost no spots to refuel. Bring enough fluids and food, stop at the Rifugio Don Barbera, about halfway and make sure to have good bottle cages to avoid launching your valued fluids into the abyss.

Down in the valley, we have two options, climbing back to the ridge on gravel or gaining the altitude on the main road towards Tende pass. Since days are shorter, we decide for the slightly faster main road that leads up the valley, that was badly bruised by a landslide in 2020 and cut off the tunnel that connects the valley towards Limone through a tunnel.

The gradual climb towards the Colle de Tende with his amazing 46 switchbacks is quiet because of the missing through traffic. This lets us enjoy the long climb in the nice light of dawn. Until suddenly we reach the Forte Central, another huge military structure on top of Tende pass.
The fog is raising quickly from the North side of the pass and it all looks like in a staged movie scene. Tired and overwhelmed from two amazing days of riding on roads that were beaten by mules, fortified, and improved by soldiers. It's hard to beat this – from a visual and a riding perspective. I'm so happy and grateful we had perfect conditions, no flats, no crashes and pure bliss.

One thought remains though. Will we put more effort into building roads that connect us and bring us closer together instead of mounting walls and fortresses that separate us? I am not sure, but something tells me that riding bikes is a good start to make a point.
FOOTNOTES
Words and photos by Dani Hofstetter