Skip to content
Skip to navigation
FIND YOUR IDEAL TIGHT!
THE CASTELLI CYCLING TIGHTS GUIDE
Wearing a cycling tight on your cool mid-season rides or cold winter rides is essential to stay warm, dry and comfortable in all weather conditions.

Our cycling tights are designed with high-quality materials and advanced fabric technologies that can satisfy every need you have and always guarantee top-level performance.

However, the specific performance and features of Castelli's cycling tights may vary from one model to another and from season to season.

Considering the seasons and conditions you'll be riding in, we offer lighter tights for cool spring or autumn rides or more insulating tights for winter cycling.

But let's go in order: first of all, which are the main features of our cycling tights?
MAIN FEATURES
When searching for cycling tights, people tend to look for a variety of attributes. Here are some common attributes you might consider when choosing our cycling tights.
Our tights are typically made from materials designed to provide insulation and retain body heat. This is crucial in cold weather to prevent hypothermia and maintain your body's optimal temperature. Cold muscles are more prone to injury and fatigue, so staying warm is essential for a safe and enjoyable ride.
Our high-quality tights have moisture-wicking properties to keep sweat away from your skin. Even in cold weather, you can sweat during an intense ride, and damp clothing can lead to discomfort and lower body temperature. Moisture-wicking materials keep you dry and comfortable.
Wind can significantly impact your body's ability to maintain a comfortable temperature, especially when cycling at higher speeds. Our cycling tights are designed with windproof or wind-resistant materials, which help shield your legs from cold winds that can quickly absorb your body heat and make you uncomfortable.
Our tights often have compression features that provide support to your leg muscles. This compression can help reduce muscle fatigue and pain, allowing you to ride longer and with more comfort. It also aids in better blood circulation, which is especially important in cold weather when blood flow to the extremities can be compromised.
Some of our cycling tights are equipped with water-resistant materials, which are essential for riding in wet or rainy conditions. Staying dry is crucial to maintaining comfort and avoiding health issues related to prolonged exposure to cold and damp conditions.
Castelli is known for its race-oriented fit, which can be snug and aerodynamic, or neutral and more relaxed. Make sure to choose a size that matches your body type and personal preference for comfort.
As winter days are often shorter with less daylight, reflective features on tights will increase the visibility and safety of the rider during rides in low-light conditions.
Featuring soft fabrics, our cycling tights are comfortable to wear. They are light and not bulky when riding, and they include specially designed padded seat pads for comfort in the most sensitive areas.
Our tights, in different ways, have these features, but which are our main cycling tights?
OUR CYCLING TIGHTS
As mentioned earlier, we offer various cycling tights, some lighter ones suitable for the cool weather of the transitional seasons, and others primarily designed to keep you warm during the colder months of winter.

It's important to remember that climate and temperature heavily depend on the geographical area we are in. Thus, while in the northern hemisphere, we have summer, in the southern hemisphere, it's winter, and vice versa. Furthermore, even within the same hemisphere (e.g., the northern hemisphere), temperatures vary significantly when we move from Portugal to Norway or from Mexico to Canada. Therefore, the choice of wearing one tight over another is an extremely subjective matter. It may also be that in a country, even during the winter months, the climate is not so cold as to make it necessary to use tights, and therefore cyclists wear shorts 365 days a year. Of course, the opposite can also happen.

With these considerations in mind, let's proceed with the presentation of our cycling tights.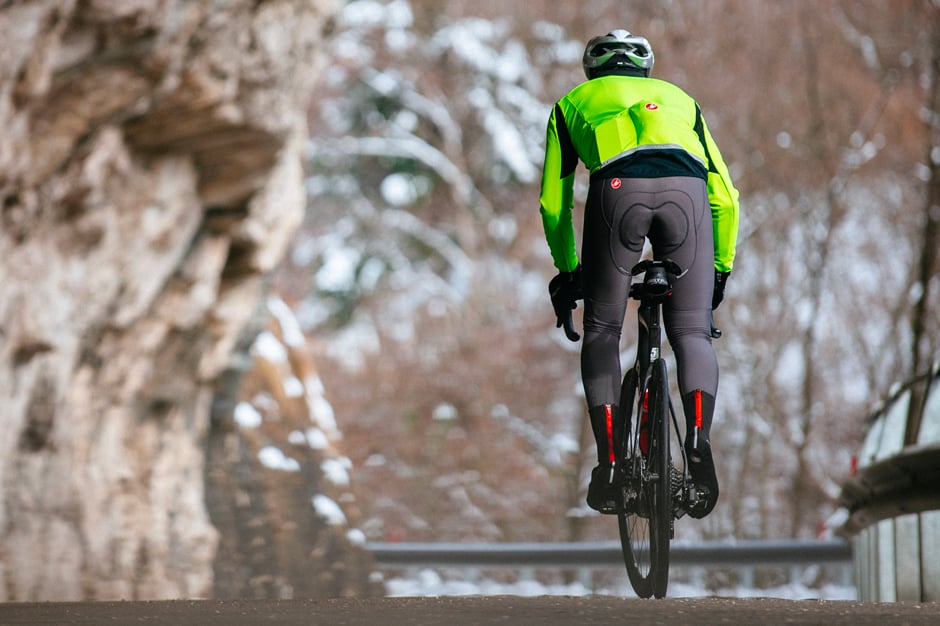 As for tights for use in cool weather, we must start talking about the Tutto Nano Bibtight for men and women, our do-everything tight great in dry conditions and at the same time water repellent for light rain and wet roads. Then we have the Semifreddo Bibtight for men and women, made for those days when you're not quite sure if you'll be warm enough with shorts and leg warmers or if you'll overheat with a full thermal tight. The "cool weather" category also includes the Free Aero Rc Bibtight for men and women, made to be your first choice for most of your winter riding thanks to its right weight and its focus on keeping you comfortable and at the right temperature even on long distances.

Other tights for not too low temperatures can be our entry-level Entrata Bibtight for men and women and our Velocissimo Bibtight for men, made to guarantee more comfort in faster rides.
Regarding tights to be used in cold weather, we offer the Entrata Wind Bibtight for men, an entry-level tight that, in addition to having the same features as the Entrata Bibtight, provides total windproofness and maximum warmth, and the Sorpasso RoS Bibtight for men and women, our top-selling made for long hours in the widest range of conditions.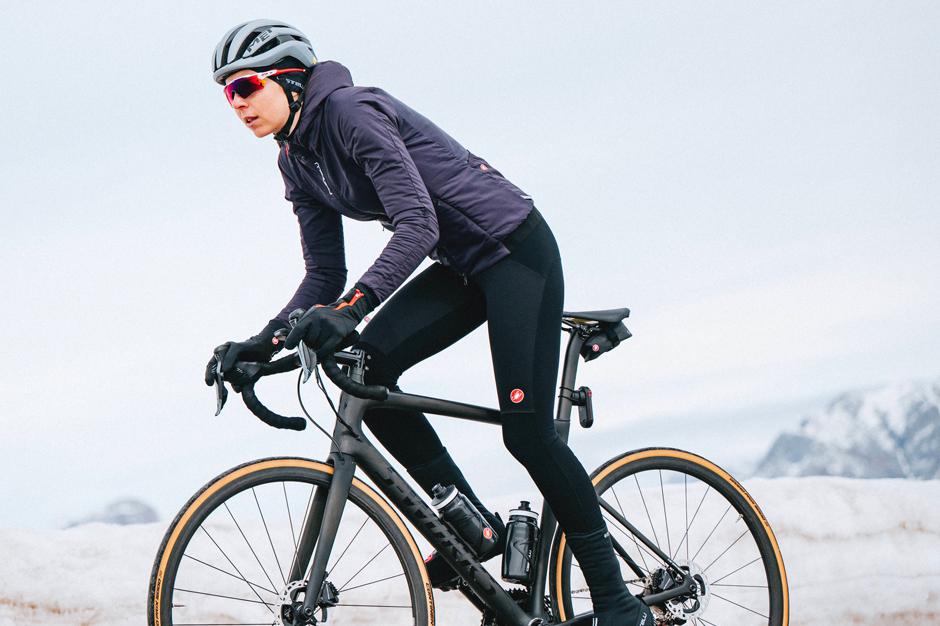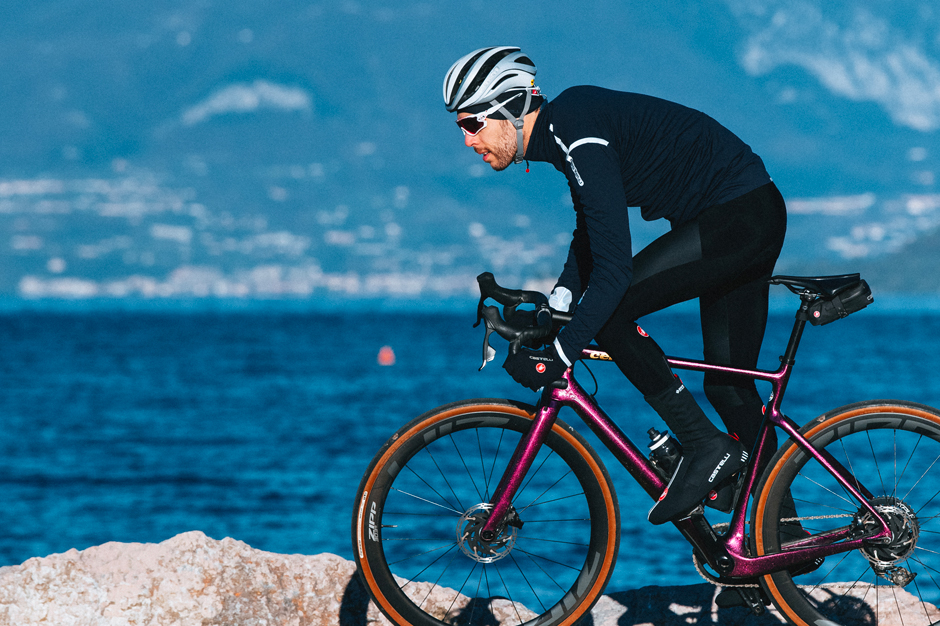 We conclude with the tights that we recommend you to use in freezing weather, which are the Polare Bibtight, our warmest tight for men and women who don't let a little cold keep them indoors, and the Sorpasso RoS Wind Bibtight for men, which compared to the traditional Sorpasso RoS Bibtight ensures extra warmth and wind protection.
Each of these tights has been produced with specific technologies, which we will introduce below.
TECHNOLOGIES
The technologies used are essentially three: GORE-TEX, Rain or Shine (RoS) and Nano Flex.
Rain or Shine (RoS) is the technology designed for both dry and wet conditions. Garments with this technology are water resistant, light and breathable at the same time. It is present in the Sorpasso tights, both the Sorpasso RoS Bibtight and the Sorpasso RoS Wind Bibtight.
Exclusively engineered by us by taking our thermal fleecy stretch Thermoflex fabric and coating it with millions of tiny nanofilaments, the Nano Flex technology partially blocks wind and water causing the water droplets to remain as spherical balls on the fabric or by bouncing them off the fabric without leaving a trace. It featured in all our tights, except for the Velocissimo 5 Bibtight and the Entrata Bibtight.
SEAT PADS
The seat pads used are two. The first one is our most comfortable Progetto X2 Air Seamless, found in the Sorpasso RoS Bibtight, Sorpasso RoS Wind Bibtight, Free Aero Rc Bibtight and Semifreddo Bibtight. It features a ventilated skin-care layer that keeps you cool during long rides and has a two-layer design with multi-density padding for exceptional comfort. The skin-care layer is seamless, adaptable to your body shape, and promotes air circulation for evaporation. The integrated cushioning layer uses varying foam thickness to provide padding where it's needed most. Additionally, perforated viscous padding is included under sensitive pressure areas for added comfort.
The second one is the KISS Air2, found in the Tutto Nano Bibtight, Velocissimo 5 Bibtight, Entrata Bibtight, Entrata Wind Bibtight and Polare 3 Bibtight. It offers long-lasting comfort with a softer top fabric, a seamless skin care layer to reduce chafing, and stretchability. It features dual-density, variable thickness for optimal cushioning, with the highest density in the ischial zone and decreasing towards the perineum and perimeter. Additionally, its anatomical shape ensures a perfect fit during pedal strokes, enhancing overall comfort.
PRODUCT CARE
To find washing instructions for your tight, look for a white tag inside it. Following these instructions is crucial for prolonging its lifespan and maintaining its performance.

1. Always read the care label before washing the tight.
2. Turn the tight inside out.
3. Hand or machine wash on a lukewarm permanent press cycle (max. 30°C / 86°F)
4. Use a small amount of liquid or powder detergent, not other products that contain fabric softeners, conditioners, stain removers or bleach as they will affect tight performance.
5. Hang dry or dry flat. Do not tumble dry.

Castelli Nano Flex fabric utilizes a combination of a DWR finish and tiny nanofilaments to repel water effectively, preventing it from soaking through. This treatment remains effective for approximately 40-50 washes if the tight is washed correctly without fabric softener-containing detergent. To restore water resistance, you can either use a commercial spray-on softshell DWR finish or, if necessary, tumble dry on low heat for 20 minutes. If tumble drying is not possible, gently iron the dry tight with a cloth in between, avoiding heat-transfer logos.