Skip to content
Skip to navigation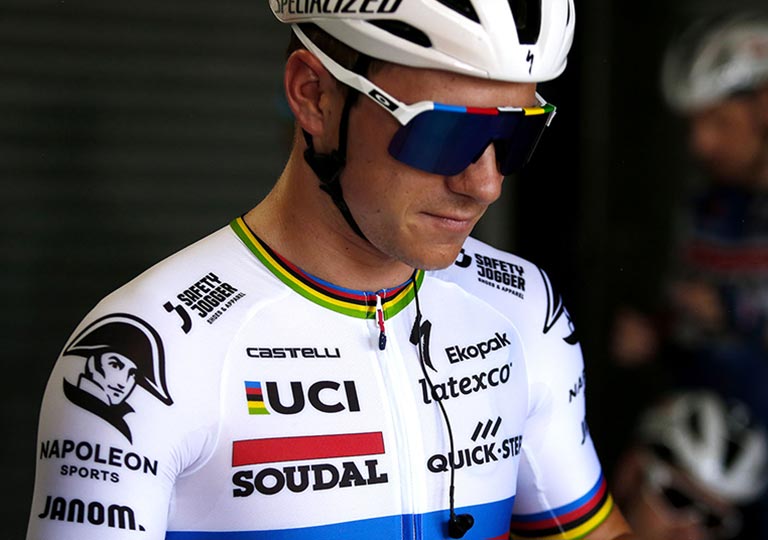 Remco Evenepoel | Exclusive interview
In this first episode of Pro Stories, we'll talk to current Road World Champion Remco Evenepoel about his outstanding 2022 dream season, hear about his first Castelli memory, what Castelli products make his life as a professional cyclist a little easier, and take a closer look at his 2023 season goals with a big dive into the Giro d'Italia.
TOPICS COVERED & TRANSCRIPT
01:16 - First Castelli memory
02:20 - The transition from football to cycling
02:45 - A talent for endurance sports
03:56 - Learning the ropes, road bike handling skills
05:38 - Winning LBL, La Vuelta, and the Worlds in one season
09:11 - Dealing with high pressure and stress
11:48 - Defending his LBL title
13:14 - Giro d'Italia #1, reckoning the early stages
13:53 - Giro stage recon in the rain
14:34 - What Castelli products stand out to him
16:11 - Road speed suit or bibs and jersey?
18:43 - Giro d'Italia #2, key stages
22:57 - Improving and working on weak points
25:17 - Giro d'Italia #3, GC contenders
26:01 - What makes the Giro so unique?

Soren: Hello, and welcome to the first episode of the Castelli podcast, provided to you by the people behind the brand and the iconic product innovations. In this first episode, we'll talk to current road world champion Remco Evenepoel about the outstanding 2022 Dream season, and hear about his first Castelli memory. Take a closer look at his 2023 season goals with a big dive into the Giro d'Italia and hear about what Castelli products make his life as a professional cyclist a little easier. The interview was recorded during the Quick Step training camp in Calpe, in Spain, in December and can also be watched on our YouTube channel. So without further ado, let's kick off this first episode with Remco.
Well, Remco, first of all, thank you for taking the time to speak with me today. I know you're a busy guy. You know, I still remember the first time we met at the team camp in Belgium in 2021, where you and your dad were the first two people to greet me at the team hotel, and you told me about your first Castile memory of a Team Italia jersey. Do you remember where you got the jersey from? Did your dad give it to you?
Remco: We were actually on holiday at Lago di Garda, in the Northern part, Riva. And as we were riding the mountain bike in Italy, we were just walking near the shops, and I saw a beautiful jersey. I'm not sure, but I wanted to be like Paolo Bettini, you know, with the Italian stripes. And, I was like, yeah, I really need this jersey. And it was like; the flags were green, white, red, and then red pants. So it was like a super bright jersey. You could see it from far away. And like, when I saw it, I really wanted it immediately, accidentally, it was a Castelli jersey, and the pants as well. It was good quality immediately. And my dad said, oh, you know, it's a high-quality shirt. Do you really need it? And I said, yeah, I want it. It's beautiful. I want it. And that's the first Castelli shirt and bib-short that I wore.
Soren: Oh, that's a great memory of your first Castelli kit, la maglia Azzurra della squadra nazionale Italiana. Hey, with your dad as a former professional cyclist, did he influence your transition from football to cycling, or was it a natural transition for you?
Remco: No, actually not at all, because I actually already decided before I even spoke with him, so, yeah, he had no choice to just accept it and let me do what I wanted to do and let me have fun. He had no influence at all. No.
Soren: You switched to cycling in 2017, and only a year later, in 2018, you did the double at the Junior Road World Championship in Innsbruck, Austria, by winning the time trial and road race. Did you already know you had a talent for cycling and endurance sports?
Remco: I knew that I was born with a talent for endurance sports because when I was playing football as well, we had to do some tests and some running tests. And I wasn't good in the explosive sprinting tests, but at like running, it was like a CD playing and like there was always like a kind of a beep, so a sound, and it went like faster and faster and we had to run from cone to cone, so it was like in a big circle and we had to like every beep, we had to arrive at the next cone. And yeah, since I was 13, 14, 15, years old, I was always the best in the whole youth categories in this test. And I think still now, my record is standing. So, already back then we, that I had the So, already back then we, that I had the talent to do endurance sports and something for a long distance and an effort over a long period of time.
Soren: Coming from football and being new to the cycling sport, where did you road bike handling skills, like taking corners, being aero and flexible, where did all that come from, so quickly?
Remco: Yeah, to be honest, I had to work on this because even going into the juniors, it was already quite okay, but then going to the professional bunch, it was. Yeah, a bit more difficult because I wasn't really used to taking corners, and going on a really high speed inside of a bunch, like really in the middle of the bunch. So I had to adapt myself a bit more and try to learn it. But yeah, I'm a guy. If I want something, I will do everything to learn it as fast as possible. 
And I think that has been the same with my bike handling. Same for the aero position, for example. I've always been quite flexible in my hamstrings and almost everywhere. So I think it's also a kind of a talent that I've been born with, but since we knew that it's quite of a strong point of mine, I've been really focusing a lot more on it and really trying to make my strong points even better. And yeah, for sure when you're a pro cyclist, you need to handle your bike very well because so many situations can pop up and you don't know how to react, and that's where the bike handling skills come in. And it took me quite a while to get into that rhythm of taking corners and just letting the bike go with the flow, you know. And in the end, everything, when you want it, everything can happen, you know.
Soren: I remember you mentoring the first time we met in person at the team camp in 2021. The big goal when turning pro was to win the Liège-Bastogne-Liège, a Grand Tour, and the World Championship one day. Now everything happened in one season. Can you put some words on what went into the preparation physically and mentally?
Remco: You know when you start to think about it in, in a way, when you talk about it with people like we are doing now, then I really like, kind of realize that it was a very special year, it wasn't a normal year. So, my big goal was really to try and win Liège because I knew I had that in me. Then the Grand Tour was more kind of a discovery to see where can I go on that aspect of cycling. And I knew already since the start of the season that I was going from the La Vuelta straight to the worlds, and actually my goal there was to try and become world champion in the time trial. But, then during the La Vuelta, I've been talking a bit and discussing the approach towards the time trial, we just needed to be lucky to have a fresh day to have fresh legs and just that super day on the time trial to do a good result. In the end, I had a really good day, but then, just two guys were better. So, that's how cycling goes sometimes. But I think just overall, the season has been, yeah, perfect! There have been some up and downs, but I think that's in every rider's season. I think overall it was a perfect season and just to achieve my three big dreams in one year, that's just incredible. And, you know, becoming a world champion at such a young age takes, I'm not gonna say it's with pressure, but it takes the pressure off because it's a goal that I achieved quite early in my career, so it's something that I don't have to hunt anymore for. Now a big dream can be to become two times World Champion three times or even more, but the stripes on the arm will be there forever. So, that's already something that I can, I'm not gonna say forget, but kind of let on the side to focus more on my big dream together with the team is to win three of the Grand Tours. So yeah, I think achieving that World Championship title gives some space to focus more on the Grand Tour dream.
Soren: The way you won your first Monument and the road World Championships were similar. If you look at how you attacked, you knew you were the strongest. I remember before coming to the team as a sponsor with Castelli, Kasper Asgreen telling me that you don't want to give Remco two meters because then he's gone and you're never gonna get back up to him. 
I mean, you have that power and that excellency, which sometimes reminds me of Fabian Cancellara, who actually once was quoted saying, "You can only do one move. You don't have the power for two moves. So when you do it, you do it properly." Your teammates, staff, and other partners of the team and what I've experienced myself say that you're such a humble and nice person. A real gentleman, Fre, the soigneur, told me that you sometimes run with them in the morning before breakfast and your training ride. Actually, I saw on your STRAVA profile that you went for a 7km with the guys this morning. If you're going again tomorrow, I might be joining the group.
Remco: Yeah, probably. I will. Yeah.
Soren: It's great to see that you're such an open person, and it's not all about eat, sleep, and cycle for you. It's more than, But how do you deal with the high pressure or stress and still manage to remain calm?
Remco: It's something that has changed since the crash, actually, because before that, I couldn't really handle the pressure. I was also still two, or three years younger than I'm now. So, you take experience in life and, you just grow mentally. But the thing is, yeah, I just feel myself. The less negative energy I show or spend. I just feel that all that negative energy turns into positive energy that I can use to have a conversation on my bike. For example, like in the La Vuelta, a lot of the time, the journalists were telling me, oh, you take so much time. Really, thank you. We are so grateful. But then, I was thinking to myself and talking to the two soigneurs that drove me to the hotel. Why shouldn't I answer, because it's, If I would start to be angry or frustrated, I'm just going to lose the energy that I will need tomorrow to perform or to try and win the race. So that's something that has changed in my way of thinking. And also the example you gave from the run this morning, it's more like, those guys just do everything for us and they did everything for me in years already, but for sure, like, I mean, especially the summer was really crazy because like in the La Vuelta we had that dream to step on the podium and why not try to win. And, we had like kind of a whole plan for the three weeks, and just before the race started, the week we were in Holland before the start. I've been talking with everybody and just saying, look it, this should be like this, then we tried this, and you know, just trying to put everything on the rails, you know. And, those guys just did amazing efforts for that, and then it's just kind of a thank you because, you can give presents or I don't know what, you can give money or whatever, but I prefer to do it in a kind of a friendly way that you do things with them, like really small things like the run in the morning, or just have a talk. Yeah, exactly, because I think in life sometimes we forget about the small things, the small details, and those things will always keep in our mind, no matter what situation I'm in, so. It's just more the way that I want to thank them.
Soren: That's a good way to express your appreciation and friendship. Looking ahead of the 2023 season and before talking about the Giro d'Italia where Castelli is the official technical sponsor of the Maglia Rosa. I would like to know if you're planning to defend the Liège-Bastogne-Liège title wearing the rainbow jersey.
Remco: Yeah, that's the plan. So, normally there were no Classics planned, but I think as a World Champion the Monument or one of my favorite races, and as a defending champion, I should try to win it again or just, yeah, represent the race I won last year. That has opened so many perspectives for me. I think it's something to look forward to. And it's a bit the same approach as we did at the La Vuelta last year. So, one big race before the Grand Tour is a long preparation. Then one good hard race, hopefully with the same result as last year with fresh legs. And then going to the Giro, I think it should be, let's say 99.9% of the same approach like we had for the La Vuelta. So if everything goes well, if I stay healthy if the training goes well, then everything should be quite okay, but you never know what happens, in racing or training. So, yeah.
Soren: You already have the eye on the ball. I think you were in Italy last week scouting out some of the early stages of the race, like the first five stages.
Remco: Yeah, we actually did six, but one we did with the car, because we did a recon of the Napoli in the morning and then we had to drive to Melfi where we slept to do the Lago Laceno stage. So there's a stage finishing in Melfi, so we did the last 60 kilometers with the car. So actually we did six, on four days, which is quite impressive.
Soren: Did you recon 
the second time trial stage in bad weather? Because I know in our corner of Italy it was raining a lot that day.
Remco: Yeah, it was raining. So, I mean, it was raining for the first 20-30 minutes, then after that it was not raining anymore, but the roads were of course, like super wet and dirty. It wasn't super cool. You know, I had my my good rain clothes on, so, it's actually quite impressive how the Castelli winter clothing really keep you warm. Actually, I was a guy, I was never training in the rain, never going out when it was like, let's say around five degrees. And now in Italy I've been training every day in five degrees. So, it says that the Castelli clothes are quite good in the cold conditions.
Soren: If you had to pick one product from your Castelli cycling clothing arsenal that really stands out to you and makes your job, training or racing, that little bit easier, which one would it be?
Remco: There are more, actually.
Soren: Well, the name three products. Three?
Remco: Yeah. Okay. Like the bibs for the rain, in the thick material? The NanoFlex Pro Bibs. Those are amazing. Then it's also gonna be, yeah, for sure, all the rain jackets, actually. And, I remember last year in December, training in Belgium in two degrees with the super thick vest (Alpha RoS 2 Jacket). So those three, yeah. I mean it's just so many, I just cannot say three, you know. Actually, the whole winter collection and rainy collection, they really make riding the bike in bad conditions. quite, I'm not gonna say easy, but it makes it more fun because you know you're gonna get wet, the bike is going to be dirty, but at least you're gonna stay warm and you always get a bit wet, you know, because when it rains, when the roads are wet, it's normal that you get a bit wet, but if you can really control the amount of rain going into the shoe or like the wetness of the sock then. Yeah, it's such a big difference.
Soren: Yeah, it makes a huge difference. Yeah, exactly. But then you also have the summer kit we talked about yesterday, like the Superleggera bib shorts Climbers Jersey, Sanremo, or the BTW speed suit. Well, talking about suits for road racing. Are you more of an aero-speed suit guy, or do you prefer a jersey with matching bib shorts?
Remco: It actually depends, you know, because for example, at the La Vuelta, I had no choice. I had to ride a bib shorts and a jersey. So, but I think, yeah, if it's, for example, at Liège, I did in my BTW suit, San Sebastien, I did in the Superleggera Suit. So when it's Classic days, I will always a wear a suit. But then for example, at Tour de Swiss, I remember having two super hard mountain stages finishing, like on a 20 km climb on the summit. Then, I was using just my Superleggera suit and also the Climbers jersey. So just a combination of bibs and Jersey, because sometimes when you climb for sure you need a bit more comfort, you know. I think the Superleggera Suit is something that I've actually discovered in San Sebastian, and at the La Vuelta the first days not wearing Red Jersey, I've always been wearing the Superleggera Suit, because, I think it's just, it makes it a bit easier to have like one suit, you know. And it makes it makes the feeling of climbing a bit more comfortable as well. It doesn't like pulling you back again when you're climbing. So just wearing the suit is like, you just have a jersey without anything under, making it a bit more comfortable to climb. And also, I really like to have like at least pressure as possible around the chest and my, around the area of the heart, actually. So, I think that's why the suits are, yeah, I think in the second part of the year, I've become more of a suit guy.
Soren: It's great to hear that you're more of an aero-suit guy. Especially in one-day races or Classics, when the race speed is high, there are huge aero gains and watt savings when using the BTW or the Sanremo Speed Suit.
Remco: Yeah, because I, I remember the presentation we had that they said that the optimal temperature was like around 15 degrees for the BTW suit and like at Liège it was exactly 15 degrees. A bit cold in the morning, so I just put the Perfetto on top and then halfway the course took everything off. Then it was time for the final. I wasn't cold anymore because, you know, it's quite a warm suit. So in a bit, let's say the mid-temperatures, it's really a perfect suit to have, I think for the spring Classics, when you're a bit lucky with the weather, you can use it every race.
Soren: Hey, let's go back and talk more about the Giro d'Italia and the Castelli Maglia Rosa. The three TT stages will definitely play to your strength, but what other key stages will be important and make a difference in the GC?
Remco: I think, already stage four will be very important because that's Lago Laceno and we did a recon on this climb, which is super hard for the last three kilometers, but yeah, as the Giro of this year is known for a lot of time trial kilometers, I think the first nine stage will be very important as well for sure, for myself, because I know those are the days that I should try to take some advantage on the GC guys. But I think for the first week, so it will be stage one, four, maybe seven and nine. So the Gran Sasso stage as well, which is always, yeah, it's a high mountain, so if you have a bad day there, you, you really can be in trouble. Then we have the second week where we go to Grants Montana, which can also be a pretty special day because it's super high mountains. Not a very technical course because it's, if I'm not wrong, that's more towards Swiss. So that should be more kind of a Tour de Swiss mountain stage. And then we also have the Bergamo stage, which is always special because it's the course of Il Lombardia. So it will be, it will be hard, but I think in a Grand Tour, this stage can more be like a breakaway stage. So I think the stage of Crans-Montana will be more important than Bergamo. And then in the last week, it's all going to queen stages, you know, it's, if I'm not wrong, we will go over. Yeah, the finish on Tre Cime, This will be, I think that's, that's the queen stage, the official queen stage. So for sure, the queen stage is always important. And I also think the stage of Zoldo Alto will be, yeah, very, very important. But then also the one of Monte Bondone, so you know, it's three very hard mountain stages in the last week, and then the TT on stage 20, which yeah, which is counted as TT kilometers, but I think it's more, yeah, it's more a bit like a mountain stage. You know, it's the last day, so everybody will be super tired and then it's only 11 km of mostly flat and then we go up for 8 km at 12%. So, I think you just need to try and keep the legs as fresh as possible for stage 19 and 20, because I think so many things can happen there, but, I think, as I mentioned, it's every week has, as there are important stages, and you just, in the Giro, you need to be awake every day because if you're not awake for let's say 30 minutes, your GC dreams can maybe be over. So, I know the stages that are very important.
Soren: Do you plan to recon any of the epic mountain stages of the last week? I mean, we already pointed them out, Monte Bondone, Zoldo Altro, and Tre Cime di Lavaredo. All epic climbs that we know really well since the Castelli headquarters is nearby, and we ride those mountains in the summertime.
Remco: Yeah, normally we will. Because, I think if I can see the mountain stages that I just mentioned, I think it will be five. We plan to do a recon of five more mountain stages. Even if the weather is not that good, I think, let's say by the month of January, maybe the roads will be open again. So yeah. That's why we need some warm clothes, and I'm lucky to have a good clothing sponsor, which can help me with that. 
So, no, but I, I really want to, to go and see the crucial stages of the second and the third week, because, then I think I will have seen all important stage of the Giro, which would kind of make me give a relaxed feeling. Because, then I will have the feeling that I'm like a 100% prepared for what's coming. And then it's all about the training. Yeah, the shape that has to be really good.
Soren: You already demonstrated in the 2022 season that you can perform on an impressive high level in any situation and gradient. The Tre Cime di Lavaredo has a maximum gradient close to 20% with an average of 8.7%, but you dropped your main competition on that grueling final ascent during the La Vuelta up to Les Praeres to increase your lead at the La Vuelta. I think you surprised most of the cycling world that day, but also showed that you are unbeatable on a good day.
Remco: Yeah, exactly, that's actually also a stage that I surprised myself a bit because, when you get dropped a few times on steeper climbs earlier in the season, you think like, oh, maybe this is not my thing. 
So, I might be in trouble on those stages, in Grand Tours or in other races. But, then like I mentioned before, I'm the type of guy if I know that something has to be better, I will work so hard on it that it's going to be one of my strongest points. And I think that was the case with the steep climbing. I've been training in Livigno for three weeks and I did Mortirolo a few times. So, I can tell you riding up Mortirolo three, four times straight away, is not so nice. I think, yeah, just working on it really makes it happen or makes it possible. So, and it's gonna be the case again for the Giro. Yeah, like I think it's just, it's just important to work on the weak points because if you wanna win a Grand Tour, you need to be like, let's say overall you need to be able to handle every aspect of cycling. So you need to climb well, ride a good time trial, and be a good descender, because if one of those three are not good, you will not be able to finish high in the GC. So, I think that's why, I'm, maybe, made for the Grand Tours because I really want to work on every aspect of riding the bike and of cycling. And, maybe that's a bit my luck that I'm so crazy to work so hard on weaker points. But I think it also, let's say, forms the beast now.
Soren: Oh yeah. No, you're completely right. The big victories just don't happen overnight. They're usually the culmination of hundreds of smaller everyday wins that mold and shape you into a stronger, faster, and better cyclist. Tell me who you see as your biggest GC contenders for the Castelli Maglia Rosa? I mean, Primoz Roglic and Geraint Thomas have already announced their participation at the Giro d'Italia.
Remco: Ah for sure these two, I mean, Geraint won the Tour and Roglic won the La Vuelta three times, back to back. I've had some some nice duels with him in the last La Vuelta. Firstly, he crashed out, but for sure with the time trial kilometers and the type of climbs, they will be present as well. They, will perform well. So I think those two will be the main favorites to win the race. So yeah, let's hope that there are some more big names coming.
Soren: As you know, cycling is one of the most popular sports in Italy. No other country has won the World Cycling Championship more than Italy. And it's not always the riders or the landscapes that make the Giro d'Italia unique. It's the iconic climbs and the fans, the 'Tifosi', the thousands of people who bring the race to life. There's an atmosphere unlike anything else. Is this also how you see it?
Remco: Yeah, and I think, you feel it the most when you're riding up the climbs, you know in the mountains. A lot of Italian mountains are historical and, like, kind of legendary even. So, yeah, it is just, you know, it's kind of a lifestyle in Italy, you know, just for example, the riding of the mountains, you can see a valley, you just know, the Giro 2015, or whatever, has passed here. You know, it's like the mountains, like Stelvio, Mortirolo, Tre Cime, these climbs. Even when you're not into cycling or when you're not involved in any part of cycling, you just know, for example, the Stelvio because who doesn't know Stelvio? It's like the Mont Ventoux for example. I think Stelvio is the most famous climb and mountain in Italy. So we all know that the Giro has passed there a few times. By mentioning a climb, the people know Giro has passed here, Thomas De Gent one year. You know, things like that.
Soren: Well, Remco, I think our time is up. Thanks for meeting with me after your long day of morning training and afternoon interviews. It's been very interesting to hear about your background and rapid popularity within the sport, turning professionals directly out of the junior ranks and into the top of the cycling world and one of the leading figures within the sport. So, thank you again for the time. Before we finish, I want to ask you if you have seen the Maglia Rosa for the 2023 edition of the Giro d'Italia.
Remco: Yeah. It's going from like, let's say light to dark pink.
Soren: Well kind of a gradient from pink to white. Well, let me just show it to you here. I have it here on my computer.
Thanks to Remco for joining us on the Castelli Show and telling us about his season goals, favorite Castelli aero speed suits for racing and foul-weather gear for riding cold and wet conditions. If you enjoyed this episode, make sure to subscribe and if you have a Castelli product-related question or topic you'd like us to discuss on the podcast, leave us a comment on YouTube or DM us on Instagram and Facebook. Thanks, everyone. See you in a few weeks.