Skip to content
Skip to navigation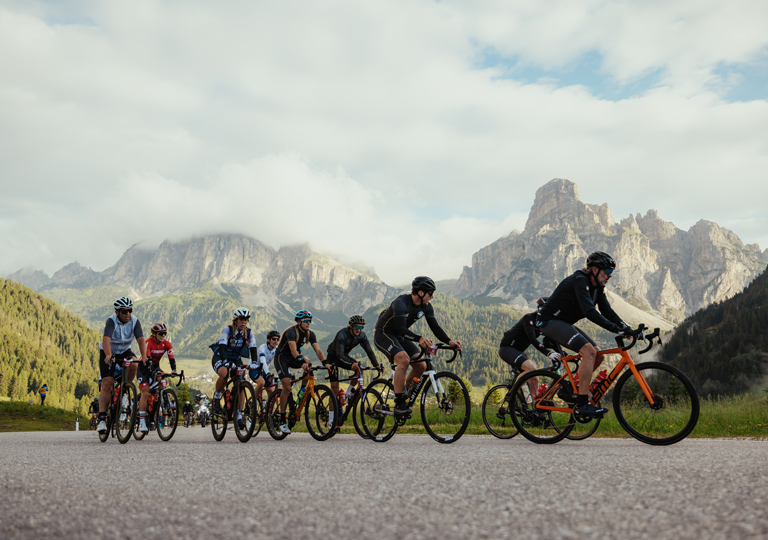 Maratona dles Dolomites - Enel 2023
The Maratona dles Dolomites is the queen of all gran fondos. It's breathtaking, beautiful, fun, overwhelming and unforgettable. The Maratona is a celebration of cycling, the landscape of the Dolomites and the area's unique culture.

Join us as we take dive deep into the twists and turns of this remarkable event with our special guests, Paolo Bettini, who has won almost everything in his road cycling career, Igor Tavella, a well-known figure in the cycling community, and Richard Pesters of PEZ Cyclingnews.
TOPICS COVERED & TRANSCRIPT
(00:00) Intro and Welcome
(03:33) The 3 Maratona Courses
(06:43) History
(08:17) Guest #1: Igor Tavella
(30:16) Giveaway: Win an entry for the 2024 edition
(32:06) Guest #2: Paolo Bettini
(40:52) Guest #3: Richard Pestes, PEZcyclingnews.com
(52:22) Ending

SOREN JENSEN
It's Sunday morning in the normally tranquil Ladin valley of Alta Badia in Italy's far north. A gunshot sends 8,000 cyclists climbing out of the darkness just before dawn breaks over the surrounding limestone peaks of the Dolomites. Throughout the huge peloton, the atmosphere is electric. At the front, the pace is almost frightening. A helicopter buzzes above, transmitting six hours of live coverage to Italian national television. The extended peloton of amateur cyclists embarks on a relentless sensory adventure, subjecting themselves to an unbroken assault on their senses, dictated by their individual speed and physical prowess.

Along the winding roads, a symphony of local folk music bands emerges, their melodies intertwining with the rhythmic cadence of the riders. This is the Maratona dles Dolomites, the queen of all gran fondos. It's grueling, beautiful, fun, overwhelming, and unforgettable. It's breathtaking, and for an amateur rider, there's simply nothing else like it. In fact, the scale of it is probably enough to shock even pro cyclists.

Hello Everyone, and welcome to the Castelli podcast, we have an extraordinary episode lined up for you today. We have the honor of delving into the world of one of the most exciting, mind-blowing, and captivating cycling events on Earth: the Maratona dles Dolomites. And to make this episode special, we are joined by some guests who have left an incredible mark on this event and the world of cycling. Plus, if you hang on till the end, we'll give you the chance to win one of two slots for the 2024 Maratona dles Dolomites edition. So stay tuned for more details on how you can enter for a chance to win at the end of the show.

I'm your host, [Søren Jensen], and together, we will embark on a thrilling journey through the heart and soul of this legendary gran fondo conceived 36 years ago by a small group of dedicated and passionate Italian cyclists.

But before we dive deep into the twists and turns of this remarkable event with our special guests, let me first give you the full rundown of the race course and the iconic mountain passes.

THE COURSE
There are three courses, none of them exactly easy. The shortest looks easy enough at first glance, just 55 kilometers, but it still manages to pack in 1,780 meters of climbing with its familiar pinwheel around the Gruppo Sella, or also nicknamed the Sella Ronda loop.

Then we have the medium route, spanning 106 kilometers with 3,130 meters of elevation, and include a second time over the Campolongo before taking on the breathtaking Falzárego and Valparola climb.

And then there's the Maratona proper, 138 kilometers of extraordinary riding that climb just short of 4,230 meters with 7 mountain passes, including everything from the medium course, plus the centerpiece of the Maratona, the mihty Pass Giau. It's the penultimate climb of the day and generally the one that riders fear the most. The Passo di Giau is no less famous or infamous, depending on how much you like long, 10-percent climbs. It set the Giro d'Italia alight on many occasions, and been tackled 9 times, most recently in May this year when Geraint Thomas and Primoz Primož Roglič were battling for the Maglia Rosa.

The average gradient is around 9.4 percent, kicking now and then up to 15 percent, and it rises more than 920 meters in a little under 10 kilometers. For the serious climber, it's a chance to have some fun. The gradient is steady and the surface good. But arrive at it with the wrong gears or overcooked, and it's like taking a shot to the chest.

At the top, you'll be 2,236 meters above sea level, surrounded by spots of snow, rock, and little else. You'll also be staring at an incredibly fun and fast descent into Pocol where you'll turn left and start the 11.5 kilometers long and last climb to the top of Falzárego and the Passo Valparola.

Well, last is a little underrated, after descending the Valparola and only 4 kilometers from the finish line, the riders are met with a small but grueling ramp about a kilometer long with gradients in the 19% range, the Mür dl giat (the cat wall).

MARATONA'S SEVEN CLIMBS
Passo di Campolongo (5.8 km at 6.1%)
Passo Pordoi (9.2 km at 6.9%)
Passo di Sella (5.5 km at 7.9%)
Passo di Gardena (5.8 km at 4.3%)
Passo di Campolongo (5.8 km at 6.1%, second crossing)
Passo di Giau (9.9 km at 9.3%)
Passo di Falzárego/Valparola (11.5 km at 5.8%)
Mür dl giat (the cat wall)

SOME HISTORY
And then there's the history. The Ladin valleys, the looming majesty of the Marmolada, and the faces of the Gruppo del Sella are as woven into the history of cycling as those winding, breathtaking roads in the mountains. It's not an overstatement to say that without roads like these, there would be no Grand Tours—or at least not the kind worth watching. The Pyrénées, the Alps, and the Dolomites are the backdrops for some of cycling's most memorable moments and the theaters in which the sport's greatest protagonists have given their most enthralling performances.

The Dolomites have given birth to the stars of the Giro d'Italia, where its legends are written. For fans of Coppi, Bartali, Merckx, or Pantani, the Maratona will be less a race than it is a pilgrimage. These mountains are full of such stories. The Passo Pordoi has hosted the Giro d'Italia 41 times since 1940, including four as stage finish and 13 as Cima Coppi, and seen generations of stars shine on its slopes, from Bartali, Coppi, and Hugo Koblet to Laurent Fignon, Claudio Chiappucci, and Miguel Indurain.

And as you immerse yourself over the mountain passes in the captivating Maratona course, and in the tacks of the two Italian cycling legends, Fausto Coppi and Gino Bartali, a rewarding treat awaits at the finish line – a well-earned beer and plate of pasta.

And now let's meet some of our guests. First up we have Igor Tavella, whose father was one of the Maratona dles Dolomites back in 1987. I met Igor on Saturday night less than seven hours before the start of the 36th edition of the Maratona dles Dolomites. Hey Igor, so great to see you and thanks for taking the time to talk to us today. I know you're about to hit the bed, I know it's some busy days here for all of you, but I appreciate that you take the time to sit down here with me and talk about how everything started with the Maratona dles Dolomites.

IGOR TAVELLA
Well, the history of the Maratona is really simple because my dad started the local cycling club that was 1978. So in order to celebrate the 10th anniversary of the local cycling club they wanted to organize an event. They had already some experiences in races and lock but mostly local races in the Dolomites short races It was very common to organize just short time trials up the Dolomites passes they wanted to do something bigger something like The long distance cross country skiing races like an example was the famous Vasaloppet in Sweden and that's how the Maratona started. That was 1987, the first edition.

SOREN JENSEN
Was there only one course back then, or three courses as we know of today? And what about the distance?

IGOR TAVELLA
There was only one course. If you think about those days, the people that had just 1987 bikes with a 42 in front, maybe 25 in the back, and they did 187 kilometers and about more than 5,000 meters of elevation.

SOREN JENSEN
So even longer distance and more elevation that we know of today.

IGOR TAVELLA
Yes.

SOREN JENSEN
Harder and more demanding gearing than those compacts that we're all riding around with today that actually makes our life a lot easier when we go out there and ride those mountains.

IGOR TAVELLA
Yes, yes. They were real cyclists.

SOREN JENSEN
Yeah, that's one way to put it.

IGOR TAVELLA
If you compare with nowadays, what the bikes you get, and all the carbon fiber and all the gears and the things go wrong, on that days they really kicked in those pedals.

SOREN JENSEN
Wow, yeah. Do you know the total number of participants?

IGOR TAVELLA
166

So that was basically the total number of Alta Badia Cycling Club members, right?

IGOR TAVELLA
No, no, that was really... Okay, it was also interesting how they promoted the event, because in Italy I think there was Nove Colli already, but in northern Italy, my dad with the local people of the Cycling Club, they just went from race to race and picking up so far the sliders on every car to promote the event, and that 166 was a good number for first edition, but of course to get the break-even, it was too low because it was really the first event, they didn't have any idea what was needed, feed zones and everything, they may be exaggerated some stuff, no? That they had to of course, it took a while to get the break-even, no? But I know it was also after the first edition, there was a lot of discussion, shall we do a second edition or not? Because there was really no money.

SOREN JENSEN
And then when did they find out that it made sense to do a second edition in 1988 and be able to support the event with money from sponsors?

IGOR TAVELLA
Yeah, yeah, yeah, because they had already finished all budget, they had no budget also, because the local cycling club was born to raise the kids and raise them with the kiss, and there was no money, all went in the marathon, you know, so they had to find something, an idea, okay, between them, the people that were inscribed to the cycling club and everything, they ended the year with zero in the balance, in order to decide to do the Maratona again or not. And there was this meeting to decide, shall we continue or not? And there were five people, two against, two agreed, and then there was the president that said, we'll try another year. So year after year, third year finally, it came to a point that, OK, we shall continue because now the marathon is getting bigger.

SOREN JENSEN
It became a more important event also outside of the Alta Badia Valley and with the break-even.

IGOR TAVELLA
Yes, at the end, you can't tell break-even because most of the money was just invested in the years to come. I started as an 11-year-old boy. I really was there from the first edition, helping to pick and prepare the starting numbers and so on, and everything. The money that I got was already spent for the next year, maybe buying a computer, as an example. I can remember the second edition. We got that M45 kilobyte, no? Computer? Computer, no?

It was exciting, I don't know. Then I knew it was just borrowed from the nearby bank. I grew up seeing all evolution of the Maratona.

SOREN JENSEN
You grew up seeing all the, yeah, the editions of the Maratona. And still today, after 36 editions, you're still the guy who runs, coordinates everything behind the scenes. When it comes to the number picking and you know where people need to go and get the race number and all the other stuff.

IGOR TAVELLA
I don't run it directly but let's say I know so much of everything I'm just there. I end up finishing every place where there is some need to help out.

SOREN JENSEN
I think it's a total number of 1500 volunteers more or less?

IGOR TAVELLA
Yes, right. Yes, 1500 volunteers. And of course without them there would be no Maratona. It's the volunteers that make it possible, everything.

SOREN JENSEN
Everything possible, coordinating everything. And it is a blast of event as we all know, with the local folk music bands playing along the route, the feed zones where you have home-made Strudel or Linzer Torte or something else, and sweets even from the area. There's also local dishes you'll find on the route.

IGOR TAVELLA
Yes, that's really... I also ask myself, how do we do this every year? Because it all comes together, it's like a big puzzle. Sometimes, just when the puzzle is rolling, at the end you really find all the pieces. Sometimes it's getting hard to find some pieces, but at the end you find it and it sticks in the right place and it starts from something bigger to the real tiny thing like, okay, what type of you use for an apple strudel. That makes all the difference.

SOREN JENSEN
It's one big, big show and I know that, I don't know, do we actually have any full-time people working here all year round?

IGOR TAVELLA
Yes, now at the Maratona I am not a full-time working people, I'm just there for the Maratona, the marathon, but the marathon has now four employees that work all year long just to organize it full time, just to organize the event.

SOREN JENSEN
Also because you have, I think in the past, maybe the number was a bit higher, but attending the press conference this afternoon, I saw that for tomorrow we will have 8,000 participants, when the past I think was around nine, but it's probably a number that you decided to reduce?

IGOR TAVELLA
Yes, exactly. One good thing we learned from COVID is that it's amazing to work with less people. Because we got the COVID year where there were just 6,000 participants at the start, because our foreign people couldn't travel to Europe. So we had 6,000 people and that edition ran so smoothly. Also, us as workers, volunteers, no one was stressed. No, really, it was from A to Z everything was perfect. Then we had the meeting after the Maratona. What was the difference? It was really the number of people. So now we decided from that point, we come down from 9,500 slowly to 7,000 maybe. We see what's the point where we can handle it easily or without stress, no? Of course, now we can't go from 9,000 to 6,000 after one year because there are really many people that have all guaranteed entries and everything, so we start to take off 500 each year. So we see where we get.

SOREN JENSEN
I get, yeah, because it's pretty impressive, because you have people from all over the world. I think this year we have 73 nations participating. Then you had 27,000 people who submitted their entry hoping to get the chance to be lucky in the lottery to get their name picked.

IGOR TAVELLA
Yes, now you just have to count the numbers. In the end, 23,000 can't get in. Then they have to wait at least five years. If they participate every year at the lottery, after five years, the sixth year you have to... you were so good and stubborn to keep up to sign up to the lottery, then you get a place. But of course, how can I say... that's the maratona. Everyone wants to do it, and you have to have patience. There is always a possibility to do it because there are charity entries and everything. But of course I understand that people from abroad that have maybe 10 hours flight or so, they wanted to do that yet. But you know the area, you know the Dolomites, we are not near a big city, it's also the region that can't hold so many people, the roads are those ones, so we have to keep the balance. And nowadays it's really important to keep the balance and be able to spoil those 8000 that are here.

SOREN JENSEN
This is like 8000 cyclists coming to participate in the event but most of those 8000 people travel here with their family, maybe with a group of friends that they would go riding bikes with the days before. So what is the total number of people coming to Alta Badia in the first week of July?

IGOR TAVELLA
Yeah, well, it's easy. Alta Badia has 8,000 accommodation beds. And we know that it's fully booked. So that means you can count now people from abroad just maybe traveling alone for the first time. But we know from statistics, they come back with the family because at the end, what is nice here, the cyclists have fun doing the Maratona, but the family can enjoy the nature and all the lift facilities and everything the region can offer. So at the end the Maratona is the event but it's a holiday for the whole family. Italians already knew that Maratona is the 36th edition. Now all the Italians come here to take a holiday for a week and they come with the family and kids you see in the area. The dads are happy to go on the road, cycle, do a two or three hour cycle loop and come back and they are even more happy to see that their wife and kids are happy because they didn't have to wait just the three hours that you are on the bike.

SOREN JENSEN
Because there's so many great activities here, also hiking and get a cable car or the chairlift and go up in the mountains, up in the plateau, seeing those scenic 360 degrees views all over the Dolomites, while dad is out riding bikes or maybe even mom. Who knows, because I saw the number that 11% of participants tomorrow are women.

IGOR TAVELLA
Yes, the number is raising. It's great. If you think that at the first Maratona there was one woman, and okay, we can say she did a long course, it was just one course, but there was one woman.

SOREN JENSEN
Yeah, now it's 880 women participating at the Maratona. That's pretty amazing, and as you said, the great news is that the number keeps rising.

IGOR TAVELLA
Yes.

SOREN JENSEN
Then we have the amazing beautiful landscape with breathtaking views. And actually the landscape of the Dolomites is so important and so inspiring that it is protected by UNESCO. And every year the Maratona has an environment related theme. This year's theme is Umanitè or Humanity in English. Let's hear more from Paolo Bettini later what humanity means to him. Mikheil Costa, the president of the Maratona dles Dolomites, once told me that the goal with the annual theme is to get people to connect with nature, contemplate the place in it, and appreciate its fragile beauty and what that beauty can do for fragilities. I also remember the first year with Castelli, 2015, where part of the Jersey design brief was to include the eco pocket for your trash like the packaging of your empty gels and energy bars and more. Igor can you tell us more about that?

IGOR TAVELLA
One problem that we always have had, now it's really getting lower, bad habit to throw away paper. So we introduced one year I think, I can't remember now the year, but we introduced the eco pocket but it's just to give a sign "hey look you have that eco pocket no try try to use it you have it, why not, instead of throwing away the papers on the road, no?"

SOREN JENSEN
This is something that you guys should introduce way before the trash zone we see in professional cycling today they cannot just throw the bottles you know whenever they want they can do it after the defeat zone and you guys you also have those areas where you've had them since a very long time and if you break the rule you also have the risk of being disqualified and not being able to enter the event for the next how many years?

IGOR TAVELLA
Well it's three years or a lifetime I can't remember anymore but I am the one that introduced this I am the one that always gets numbers because we have controls on the road you know so people say hey if someone throw away okay you are disqualified you can't come anymore. But as we told before, there are 27,000 people that wanted to come. So, it's a hard lesson, but you know it before. I mean, trash has to stay in your pocket and not on the road. We try to do all the best to preserve the area. It's not just that Maratona was through Antelope Díaz. It was through all the donor mice we have, it goes through the other valleys that we take care of their place, it's not just our place.

SOREN JENSEN
Actually, how many valleys are we talking about, or Latin valleys, that the race goes through?

IGOR TAVELLA
Four valleys, yes, so four valleys and three regions.

SOREN JENSEN
That's amazing, but it's also a good lesson, I think, for people, because maybe they think about it when they come home, you know, no matter where they're from in the world, they come home and think about, okay, you don't just dump your trash alongside the road. You keep it in your pocket to get to a trash can somewhere you can get rid of it. And also I know that after the race finished, part of all the volunteers also have the last job to do. What is that?

IGOR TAVELLA
Yes, the last job is to, I think there are now three teams, around 40 people, and they walk all the course just to pick up all trash. And they don't pick up just the trash from cyclists, from the Maratona. They really clean up along the road, everything. Because we know what they find. Maybe they find a paper of a gel, you know? You see if it's from yesterday, or if it is three months. They really clean up everything. It's nice to see that every year they pick up less and less stuff. So we try to do our best.

SOREN JENSEN
Igor, so since you've always been helping out behind the scenes since you were 11 years old, and I know your sister as well, and a lot of more people of the 1500 volunteers that are taking part in the biggest sporting events here in Alta Badia, did you ever had the chance to ride it yourself?

IGOR TAVELLA
Oh yes, it was in the Covid year. And in that year there was no Maratona, but what do we do? Of course, at the Maratona, you know, it's always sunny the day of the Maratona. So that was the only year we did the Maratona. But we also worked as Dainea Peaks because my dad when he came up with the Maratona, every year they changed at the beginning, they changed the course. Every year they changed the course because of problems with the other valleys, permissions. The Maratona grew every year so they had trouble, there weren't closed routes before, so they had always to manage where do we go, where do so, it was always July was the Marathon of the Month, they got all these complaining letters from the other valleys, and in September we had to write what could be a new course, Hinden the Dolomites, the last long rides you can do that in September, so it was always the final ride of the Lopez Isley Club, okay we tried this course. Of course, it was always something crazy. But we did it. We worked as a kind of a piece for what could be the new course of the Maratona.

SOREN JENSEN
I like that story. And the course we know of today, mentioned earlier on the episode, there are three courses, but the courses have been the same since how many years?

IGOR TAVELLA
That's now since 1997.

SOREN JENSEN
And when did the race like start picking up participants because we said beginning was those 166 and then when did the number start raising it become something more that it was not only within the Alta Badia Valley if it was people from outside that was coming.

IGOR TAVELLA
I think it was already at fifth edition where the number started to double and double and I can remember on that edition we were printing numbers with just a normal printer because we finished all the numbers, the starting numbers, classical ones, so there was still the controls with the stamps.

SOREN JENSEN
The controls would be on the top of the mountain passes?

IGOR TAVELLA
Yes, some mountain passes, not all four contours so that you can see long course, medium course or short course. But we didn't have any more starting numbers. The starting numbers were printed way before, on special paper, the starting number. And we didn't have, so we just printed these numbers on A4 normal paper that people had just to put in a plastic envelope and they did a contour like that. But really, we were printing numbers like hell on a Saturday before the Maratona.

SOREN JENSEN
I can just imagine you with your family but also all your friends here and...

IGOR TAVELLA
No, but you know, you don't expect that, no. And you can't say on a Saturday evening you have to go home. There were people coming from Germany and so just want to start and participate. But it was also that, after that edition where we had to print numbers, then we started Maratona with closed numbers afterwards. Because it was really a trouble to print numbers on A4 paper, people sweat. So you could imagine how the numbers came back, you couldn't read anything.

SOREN JENSEN
I like that. It's incredible to think about it. And also think about how quickly this event has grown and gained popularity all over the world. It's amazing to see, but since you have experienced it all, I'm pretty sure, I also know you as a person, that you have a funny story or maybe two you can tell off from the event.

IGOR TAVELLA
If you can I don't know how long do we still have. I don't know, five minutes, okay, so long story short, I think it's the first edition. No, you can imagine me, 11 years old. My dad said, okay, you have to go on the feed zone on the Passo Duran, 11 years old, no? And I had to go with two elder persons, also locals. First I asked myself, why do we start before the normal start of the Maratona if it's just one and a half hours away? In the Maratona there's a big loop to get there. Well, I realized after three kilometers, because they stop from every town to get to that place. So just remember, on that edition I learned about every bar in every town and I remembered they also drink his little 0.10 glass of wine and I had my juice. So after the third bar I was happy to stop in the next one because I had to pee. All the way down, so then we ended up in the feed zone and I wanted to come back with my dad. And my dad, he was putting the signs on the road for the riders, the directional signs. And how did he use the signs? He just had the glue, not the normal one for the publicity that you use for publicity, but he glued it on the asphalt, on the tarmac, and there was one guy with him, sticking tenderloin, and he put another glue, one more layer of the glue, on the sign, you know? And of course, he was, he, my friend, that was with my dad, just, with my dad, just laughed at me. Ha, now you do that job, no? I didn't know what to say, I just saw him with black, really black hands. Well, I realized because I had to do that bath for the second half of the course, so I got all the sticky hands from the blue, and I still had always to pee because of all the juice. So that's the story.

SOREN JENSEN
That was a good experience, I mean, in a very, very early age, yeah. Igor, before we wrap up the interview here, can you give us a quick crash course in Latin, the Latin language? Like, three words that as a foreigner, like myself, coming to Alta Badia, I need to know my way, get around, I'm here and buy holidays. The three most important words, or could be a phrase, and then of course you have to tell us in English what it means.

IGOR TAVELLA
Well, first of all, if you come, depends when you come, bon dí, good morning. When you go away, salut, see you and if you want to thank someone, Giulan.

SOREN JENSEN
Giulan

IGOR TAVELLA
So, that's the three words you should keep in mind.

SOREN JENSEN
And you get everything that you ask for here in Alta Badia. For our listeners here who have never been to the Maratona or maybe not even Alta Badia, let's give them a chance to come and explore and experience this amazing event and devalue the area next year in 2024. So we are giving away two slots for the Maratona and I'll let you run us through the rules to be able to participate.

IGOR TAVELLA
Well, they should... what should they do? Well, let's see how many listen carefully and let's ask them how many participants there were at the first Maratona dles Dolomites in 1987. That's a very very good question, that's a very good question.

SOREN JENSEN
So if you didn't pay very close attention in this podcast maybe you have to rewind back just a little bit to find that number but what you can do is that you can enter your answer and your contact details on "castelli-cycling.com/maratona" and then will have a contact form where you can insert your details and then within the end of July we will random draw two lucky winners for next year's Maratona dles Dolomites edition.

IGOR TAVELLA
And they should then start the train of course. Yeah.

SOREN JENSEN
Okay Igor, this was fantastic. Thank you for taking the time to.. I know you've been super busy and you've got the big event starting here tomorrow and it's already late now, it's already almost 11

IGOR TAVELLA
You know, when you are too tired you even don't sleep so... It just doesn't matter

SOREN JENSEN
I know you have to get up in 4 hours and get everything ready so thanks again for your time Igor and see you there at the start tomorrow morning.

IGOR TAVELLA
Ok, so have a nice sleep and see you and also salut.

SOREN JENSEN
Giulan.
Our second guest is a true legend of the sport. He has won just about everything in his career. We sat down with Paolo Bettini the night before the Maratona event for a chat about what his perspective on the concept or the theme of the Maratona, Humanité, Humanity within the world of cycling means to him. He will also give us his insight after his 13 years of experience participating at the Maratona, the evolution of cycling equipment and much more. But to capture the essence of Paolo's words we conducted this interview in Italian, but fear not, we have carefully selected a few quotes to share with you in this episode today. However, the full interview, brimming with colors, flavors and raw emotions will be released next week, so be sure to stay tuned. But first, let's hear from the man himself what the Maratona means to him.

PAOLO BETTINI
The Maratona is the event, the event of the events, because it takes place in Italy, a country renowned for its breathtaking beauty. Italy offers countless regions with stunning landscapes and diverse geographical features. When you enter the Dolomites, which have witnessed countless historic moments in cycling, it becomes a truly special experience. Pedaling through these legendary mountain passes, where the greatest champions in cycling history have left their mark evokes a profound sense of pride. I personally experienced this many times even during stages of the Giro d'Italia. Whether I found myself in a breakaway or struggling at the back of the bunch as I wasn't a natural climber, completing these challenging stages was an achievement in itself regardless of the outcome. Now imagine what an impact it has on those 6,000 and more participants who gathered here preparing to take on this epic closed road event. For many of them, just a few months ago, they didn't even know they would have a race number. They come from all works of life: workers, employees, plumbers, university professors and business managers, dreaming of participating in this event for years. It is exciting, and it brings back the aspect of humanity. It reminds us of the deep sense of unity and shared humanity that emerges when we come together for a common mission. During a race, especially for professionals, there is often little time for reflection or observing the surroundings. The nature of competition demands focus. However, there are moments when the peloton allows for a more relaxed atmosphere. In these instances, whether in grueling epic dolomite stages or less intense situations, riders may have the chance to glance around and talk to teammates. These instances reveal that the dynamic within the professional peloton are not so different from the amateur world. The Maratona dles Dolomites is not just a race, it represents our shared passion for cycling and the remarkable human connections we forge along the way. It exemplifies the profound bond that unites us as cyclists, regardless of our backgrounds or levels of expertise. And it brings us back to the aspect of humanity, the human part. A cyclist who sees another cyclist in difficulty stops to help him, whether it's a flat tyre, a crash or a dropped chain. Those people are rarely left on their own. This normally happens every day, even in these events. It has always happened in professional racing too, because today I might find one of my opponents in difficulty on the course. Or well, if I'm in the race because I'm fighting for the victory, maybe I take advantage of it, because there's something greater to bring home. But If I'm dropped and behind and I see him in difficulty, I try to help him because today it's him, tomorrow it could be me. And this is the story of humanity within the group, even at the competitive level. From 2009 till today, I think I only missed the Maratona two times, so that makes it 13 times total that I rode the Maratona. A few years ago, riding up the Campolongo, I ran into a former teammate from Quick-Step. He recognized me from the name on the race number. Both of us were a bit out of shape. I look at him and tell him he looks familiar. He looks and says, you don't recognize me? He moves in front of me and says, read the race number and my name. And that's how I reconnected with an old teammate who I hadn't seen for years. The Maratona is also one of the few events where you touch on social aspects and it's not necessarily a race. The contest we're in, the harmony, the sharing. It's an expo that ends with a big ride. Coming back to the human aspect and sharing and being connected in some way. A few years ago someone passed me on Campolongo and greeted me in a way that you would only be greeted by a friend. But then he just continued riding up the hill. So I thought that was strange. Who was this guy? So I caught up to him and said, hey, did I do something to you since you greeted me in such a friendly way, but you didn't want to stay next to me. And I found out it was Andrea Berton, a commentator for Eurosport. And he is the one who commented on all the victories of my career. A friend, a great cycling enthusiast. Sorry Pablo, but I cannot slow down. I'm committed because I want to finish the long route in under 6 hours. And at that point it spontaneously came to me to tell him, well, today I'll be your Gregario. I'll ride at a moderate pace and stick with you. So I rode with him and took him all the way to Giau. Unfortunately, I didn't have the kilometers to do the long route. In fact, I started cramping on Giau and I was getting hungry. Andrea went on, followed his path and he was almost sorry, you know, because when I was climbing Giau at the third bridge, I told him, go Andrea, go, because I'm done here, now I have to manage myself. He was almost sorry to leave me alone, but then he understood and for me it was a torment there. It was really tough to climb the Giau. It was extremely difficult to reach the Valparola and fighting against a strong headwind and working my way back to Corvara. Unfortunately, Andrea didn't achieve his goal because he finished in 6 hours and 4 minutes over. That's what Maratona is. He had a challenge with himself. He was running against something that was a benchmark, a limit, a personal record. And he had set it all at 6 hours. And that was his race. It wasn't about winning the Maratona. It was a personal achievement. The asphalts are good, the descents are beautiful. I use a 28 mm tyre which makes a huge difference when it comes to comfort and grip when descending. Regarding the gears, it's easier nowadays with compact gearing, because in the past we had to build the gear range and change the gear cassette depending on the profile of the course and where we are going to ride. Today we have compact gearing, nothing can go wrong. It depends on a person's attitude and how many kilometers they have in their legs. Personally, I'll ride with a 34-30 gear ratio tomorrow.

SOREN JENSEN
Our last guest is the guy who founded PezCycling. Let's welcome Richard Pesters.
Hey Richard, first of all, I'd like to thank you for taking the time to join us here on the podcast after your first Maratona de la Mita experience up here in the Italian Dolomites. Richard, why don't you just present yourself first?

RICHARD PESTERS
Sure. Well, my name, if you don't know me, is Richard Pesters. I have been publishing PEZcyclingnews.com for 21 years. You might have been one of the 57 people that tuned into my live broadcast yesterday on Instagram from the Maratona I got this idea and you went like just on the first line that I might as well see if I get an internet connection up here on my phone and I just go live every 20 minutes or so. It's kind of cool.

SOREN JENSEN
It's kind of cool, yeah. How was it? I mean, your first experience up in Alta Badia or riding the Maratona?

RICHARD PESTERS
So, I've been to the area a few times over the years covering stages of the Giro d'Italia, just doing some rides myself. I have not done the Maratona. So, I know Steve Smith from your office has been telling me, you've got to come to this race. He's been talking about this for three years. And last year, some buddies of mine from Vancouver came over and did it, and they were talking about how great this thing is and so this year I had the opportunity to be here and do the race. I was like you know what I got to do this. So the interesting thing is I was just here in Italy two weeks ago riding the Gran Fondo Eddy Works in Verona. I went back to Vancouver you know it's a 10 hour flight, a massive travel day, was home for about 12 days, just got over my jet lag, got back on a plane, came back over for this ride and it's only like about a six day trip for me to get turned around. I'm going back home tomorrow but I wanted to fit this thing in so I was a little intimidated by the fact that it was gonna be I mean it's such a big there's so much climbing 4,000 meters on the 138 kilometer route and I haven't done that much climbing ever in one ride but I thought you know what you know if you're out there long enough you can probably get it done. I discovered that when I come over to Italy my second or third day is usually my worst day of jet lag and so we did a ride on Saturday before the event and it was raining and I gotta tell you I felt completely blocked and it was just I felt so bad and I'm actually in pretty decent shape now and so I was getting a little nervous about how much of Maratona I would do so I kind of dialed my expectations back and I decided you know what I'm just gonna ride within myself I'm gonna stop at every stop keep eating. I'm gonna have fun, I'm gonna talk to people and just enjoy the experience. I'd like exactly what I did.

SOREN JENSEN
Awesome. The differences between Saturday and Sunday of the race days was Saturday was raining and it was chilly. I don't know how you felt about descending those mountains in the wet, but behind the Pordoi and some other mountains, it was still pretty humid and wet roads.

RICHARD PESTERS
You know what, we got, you're coming down the Falzarego, kind of the opposite direction of the race lineup, and it was raining hard on us, but the road was okay. The road wasn't that wet, but it was really, it was raining hard enough that we got soaked. So, you know, the rain was flashing through my helmet and I was, you know, doing that, but, you know, we, anyways, we woke up Sunday morning, we could see blue sky, and what an amazing day. It was the perfect temperature, the roads were dry, the sun was out, and, you know, for me, I had an interesting experience because we started at 6am or 6.30am, it was freezing. It was hard for me to get over those two climbs. I got into the valley behind the Pordoi and it was so cold down there because it's so deep and so dark. And I was like, oh my god. For some reason, climbing out of the Port d'Oy up to whatever the next climb was, I started to feel a little bit better. I just, you know, the Atlantic came out, I started running. And then every climb after that, I felt a little bit better. In fact, the last climb of the day coming over the Falzarego, up over that thing, 11 kilometers, I actually felt pretty good. Which is a complete difference from the start of the day. So I guess the moral of the story is, you're out there long enough and you can go through those peaks and valleys. You never know how the days can turn out. But if you're feeling shitty at one point, you keep going because you might end up feeling pretty good later on.

SOREN JENSEN
Yeah, no, completely. I mean, a lot of people usually struggle on that last climb, especially after doing the penultimate climb, the Passo Giau. A lot of people complain about the Falzarego coming up from Pocol, Cortina, but it's not really steep or anything, it's just long. I think it's averaging about 5% or something over, what's that, 11 kilometers?

RICHARD PESTERS
Yeah, that was a nice grade. You know what, actually, I was pretty happy with that, so
I was like, okay, this feels pretty good. And the funny thing is, at the top of Falzarego is having a you know eating a panino waiting at the railway station and Steve Smith pulls in so we actually got to ride together for a little bit you know he dropped me right away so I basically never saw him after that but we had a snack and had a chat it was pretty fun.

SOREN JENSEN
What do you think about that grueling ramp just a few kilometers before the finish in Mur dl Giat?

RICHARD PESTERS
Unnecessary. That's what I think about that. I thought I was gonna have to get off and stop because I was in, I was right at the limit. I was in a lot of pain. You know what, I'm gonna see if I can dig myself into a very deep hole here. And I did. I got over the top of the thing, but I was in a bit of a state, you know, my heart rate was way out of control. I was gasping for air and all that stuff. But I did it. I would be happy without that piece of there.

SOREN JENSEN
How did you dress there on Sunday?

RICHARD PESTERS
You know, I'm one of these guys, I would rather be too hot than too cold. And so I put on wool socks, I had some rain booties on. Let me see, I had a bay flare, a jersey, arm warmers and a vest. And then I had my Castelli Idro jacket rolled up in my back, which I carried with me all the time, the whole time. And then I actually had a, my strategy was, I did the first, you know, the course was a figure eight, so you do like 55 kilometers, you come back to Corvara, then you head off and do the rest of it. So when I finished that first 55, I decided I needed to, I was, by now it was warm and I had a little too much clothing on, so I basically took 15 minutes, went to my hotel, changed my base layer, changed my socks, put on dry socks, got rid of a bunch of stuff, and then I went back, and then I did the rest of the ride and it was far.

SOREN JENSEN
Yeah, the percentage of people actually racing for top 10 or top 20 placement is really more compared to other Grand Fondos. Where here it's more about being together, soaking in the scenery, meeting people from all over the world. I think we had 73 nationalities participating at the Maratona yesterday.

RICHARD PESTERS
Yes, you know I had a strategy. First of all those climbs are pretty hard so nobody's really talking on the climbs. So after about, you know, by the time I got to the Falzarego, I was a little bit bored of not talking to anybody. So I basically looked at people's name tags and the beauty of, you know, everyone on there, on the, on the number plate you have, your name is on there. So when you ride up behind somebody, you can see what their name is and their flag tells you, you know, gave me an idea of whether they spoke English or not. So basically I was coming up behind people and I'd say hi to them and I'd called out by name, but then I'd start talking to them if I figured they'd speak English. So basically the whole way up the climb I must have talked to five or six different people. And it really just broke up the monotony of the climb and it was really interesting to talk to people from Brazil and Holland and you know the States and just all over the place right. It really just made the whole event a lot more entertaining and interesting.

SOREN JENSEN
Did you see any other Canadians?

RICHARD PESTERS
Yeah I actually did. First of all there was an oncoming influencer named Anne Riesling who was from Vancouver who was a Pinarello ambassador so she was there. I saw her at the start and I know her from Vancouver. I also ran into a guy I think his name was Alex on top of the Gardena. I think he was up in the Dolomites. He had a big jersey with a Canadian maple.

SOREN JENSEN
Which one of the climbs was your favorite or the location or the scenery?

RICHARD PESTERS
You know, I like the climb of Arabba looking back down the valley. I got to the top, I looked back down the valley and you could see the road snaking all the way down. Pordoi? Yeah. And on that road, there was nothing but cyclists. It was just one, I don't know, it was like 11 kilometers of cyclists just coming up the mountain. And the sun was kind of coming over the mountains and it was lighting it up. And I thought it was a pretty cool, pretty sort of almost spiritual moment. And then of course my favorite descent, I like the descent back of the Gardena, but that descent down the Valparola was really, that was a sweet, sweet icing on the cake I think.

SOREN JENSEN
So how long were you out for?

RICHARD PESTERS
Well, I saw my stats today, my typical time was like 7 hours and 10 minutes. And I got to the cutoff point for the long ride 15 minutes after they closed it. So I didn't have to worry about talking myself out of it. There was no danger of that happening. And I finished like my overall place was like 1328 or something. I don't know, it was some massive number like that. It was pretty funny. But, it was great. You know, I was I, I really didn't need the timing. Some massive numbers like that. It was pretty funny, but it was great. I really didn't need the timing chip because I was taking so long doing stuff.

SOREN JENSEN
No, but that's the way you should take the Maratona. Just like you said, the social aspects and soaking in the sceneries and the moment and everything is different. You crossed four different valleys. You probably also noticed that along the road, they had the folk music, they had their great cakes they're serving in the feed zones from strudel to Linzer Torte, yeah, no, it's fantastic.

RICHARD PESTERS
You know what, I think it's this, I'm quite a fook now. I feel like this is a bucket list ride and I don't, it's hard for guys, for people from North America to come all the way over here. It's a big ask, it's a big trip. I'm sure it costs a lot of money, but for sure once, if you can get on it and do this thing once in a lifetime, it was a really cool experience. Like just so many riders. And I noticed, like there were poor riders, like all the riders were pretty top caliber and you gotta be a good rider to complete those distances and do those climbs. You know, it was pretty fun to be in a Gran Fondo with cyclists that for the most part were pretty good riders. I enjoyed the experience. I really enjoyed seeing, you know, some of my old friends. It was great running into you again. You know, it's like we see each other about once every two or three years, but it's like, hi.

SOREN JENSEN
It was a big surprise for me as well. I mean, I loved it. It's especially after the whole COVID thing, because before we would run into each other at the bike events. And since a lot of that stopped and at least got reduced, it was a big surprise, a very positive and nice surprise to see you there.
It's a lot of people also look at the Maratona as one big family reunion, or not only bike industry, but just cycling fans. Every one of us just sharing the same passion for the sport and going up there riding bikes. Not always you get a slot because you know there are almost 30,000 people signing up every year and only 8,000 get picked. But a lot of people, they maybe if their friend were lucky enough to get a slot, you know, you know, you join him or her, you go up there and you just ride the bikes a few days before or after so and just spend a good time. So it's fantastic. Well Richard, thank you so much for taking the time to jump here on the pod and sharing your thoughts and your first Maratona experience with us.

RICHARD PESTERS
Soren, thank you for having me. It was obviously a pleasure to be here. PEZ fans can tune in. I'm going to be writing a full story on this thing. I shot a lot of video and I'm going to put something together up on our YouTube channel so there's going to be more happening, more coverage from PEZ as well that's out there that people can tune in and see what my full experience was like..

SOREN JENSEN
Perfect. Yeah. So remember that everyone is going over to Pez, both on YouTube and pezcyclingnews.com. And when it will go live, then I will also drop a few URLs to your podcast notes so people easily can find you. Great. Okay. Rich, thank you so much and look forward to see you again soon.

RICHARD PESTERS
Take care, Soren.

SOREN JENSEN
Ciao.

RICHARD PESTERS
Ciao.

SOREN JENSEN
And that's it for this week's episode. Thanks to everyone who joined the Castelli Show and a special thanks to all our guests who shared their Maratona dles Dolomites stories and experiences. I'll drop all the important links in the podcast description for you to easily find all our guests, the giveaway submission form and the official website of the Maratona dles Dolomites. And stay tuned for the full interview with Paolo Bettini coming out next week. If you enjoyed this episode, please make sure to subscribe, give us a 5 star rating to help us be seen in the algorithms so it's easier for other cyclists to find us and if you have a Castelli product related question or topic you like us to take up on a future episode, email us through the contact form on the Castelli website, DM us on Instagram, Facebook or you can also submit your question through the Q&A on the Spotify app. Thanks again everyone and see you soon.