Skip to content
Skip to navigation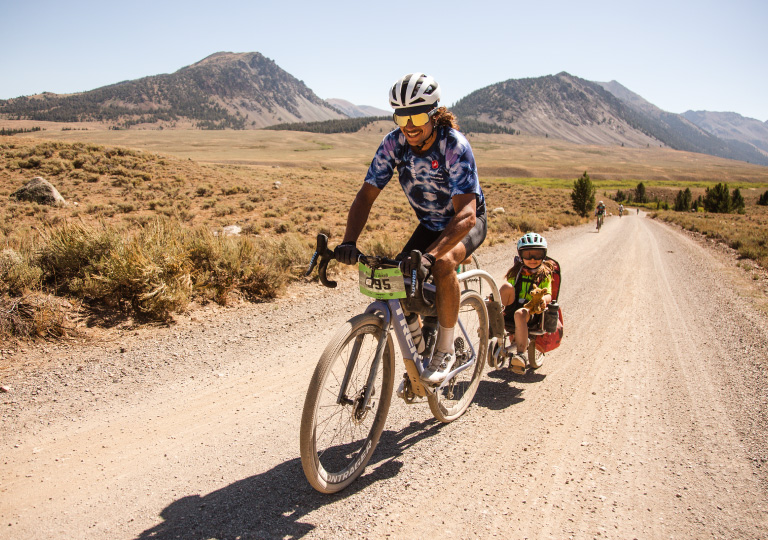 FATHER AND DAUGHTER | RACING IN IDAHO
BY KIEL REIJNEN
Kiel Reijnen is a professional gravel cyclist for Castelli and the Trek Driftless Team. This past fall, Kiel raced the final stage of Rebecca's Private Idaho - a 103-mile affair with over 6k' of climbing – with his 5-year old daughter EmmyLou. We thought it an appropriate tribute to Father's Day, and a wonderful story of introducing the next generation of cyclists to the bike.



It was an early morning, especially for me, as I made the mistake of promising a breakfast of French toast, but Emmy jumped enthusiastically from bed at 5:30am, motivated by the smell of maple syrup. Crisp mountain air greeted us as we made our way to the start line, and sensing EmmyLou's nervousness I wondered if taking on this adventure had perhaps been a step too far.

The starting horn sounded and Emmy immediately settled into her happy place, soaking in the atmosphere and energy of being surrounded by hundreds of other riders. I pushed hard on the pedals to try and remain with a group over the climb, knowing that having a draft over the upcoming long stretch of exposed road might make a huge difference six hours later. EmmyLou would later describe this first climb, amongst the big group, ascending quickly with expansive vistas, as her favorite moment of the ride.
I knew it would be a challenge to make the time cutoff at mile 43, giving Emmy the option to continue pushing on. I gave us 15 minutes at each of the first two rest stops, offering fluids and food but also an opportunity to refresh and reassess, to visit with friends, cheer on other riders and thank the volunteers. At the cutoff I checked in with EmmyLou again: "How are you feeling sweetie? This is the point in the ride where we can cut out a couple of hours, is that something you feel you want to do?". With only a split second hesitation she replied, "I want to keep going, Daddy. I feel good and want to ride the whole Baked Potato."

Arriving at the finish line and for days afterwards, everyone wanted to know, how, or perhaps more interestingly, why, did a 5 year-old ride for 102 miles with her Dad? It's a fair question, and one I found myself asking as well. I thought about the comments Emmy made, how we handled the various obstacles of the day, and the smile she had on her face at the finish. It would be easy to assume that she must be an extra tough kid, immune to discomfort, but suddenly, it dawned on me that EmmyLou's greatest asset is her emotional self-awareness. She isn't ambivalent about feeling discomfort, rather she recognizes it for what it is, acknowledges how it is affecting her, is capable of articulating that to me, and either moves on or trusts that as a team we will work through it. As a parent trying to navigate these herculean undertakings I, of course, have to keep EmmyLou's safety as paramount. That is why her emotional self-awareness is so important. I can trust her to express how she is really feeling. I can take those conversations at face value, make decisions, or allow her to make decisions around them and know that I am not leading us somewhere she is not able to go.
Around mile 85 EmmyLou and I both started to break down, and approaching the most technical 5 miles of the course, we hit a wall. I was emotionally spent from taking care of Emmy throughout the weekend, stressing about her having enough sleep, eating on schedule, getting enough fluids, keeping track of her stuffed animal. Sun exposure and 7 hours of pedaling had tired our legs and exhausted us, and I was forced to pause and reassess. Another opportunity to take a short cut, which I offered to Emmy. "No Daddy, I want to take the bumpy route so we can finish and bang the gong".


Most 5 year-old's would say "Go, go, go!" until they are under water. Emmy will acknowledge how hard something is, how overwhelmed, tired and upset she is, process that and then let me know if she thinks she can push through it or not. Ignoring how you feel will get you far, but it won't get you 100 miles. Recognizing how big the challenge is, how much your body is struggling and how difficult the conditions are, allows you to answer the question of whether or not you can keep going. That is Emmy's super power. It also allows me to trust her answer, because if she wasn't able to accurately assess where she is at, I would have to intervene.

With 12 miles to go, Emmy's mood improved and she was back to her confident self. She'd hit a wall, decided to push through it, and had come out the other side with renewed vigor. I felt relief knowing that we had made the right call and with just a long descent into town left to the finish line my spirits had lifted as well. Crossing the line was a massive accomplishment for us. I started the day unsure as to whether we would make it 25, 50 or 103 miles, but some level of uncertainty only adds to the adventure.
RPI was an incredible experience for both of us. We met so many inspirational folks on our journey and received astonishing support from everyone there. EmmyLou and I had partnered with World Bicycle Relief in an effort to raise funds to get 22 kids bicycles (Emmy had 22 kids in her kindergarten class), these bicycles often being the difference between these children getting to school or not. I didn't just want to raise money for a good cause through EmmyLou's story, I wanted to have her share the journey, understand the impacts, the difference she was making, and perhaps most importantly, show her that just by showing up and trying she can be successful. Before starting the race we had already raised enough money to buy 18 bikes. EmmyLou had accomplished something meaningful all before taking a single pedal stroke that morning, which is an important lesson for anyone willing to risk failure by going big.


On the drive home Emmy asked, "Daddy, has anyone ever ridden across America?" After giving a very brief explanation of RAAM, there was a long pause followed by the inevitable, "Can we ride across America together?" After explaining that something like this would take a lot of preparation and practice, Emmy answered "I know that Daddy…so can we do it?"What could I say? She had clearly already decided our fate. "EmmyLou, if that's something you really want to do, then of course I will be by your side".