Skip to content
Skip to navigation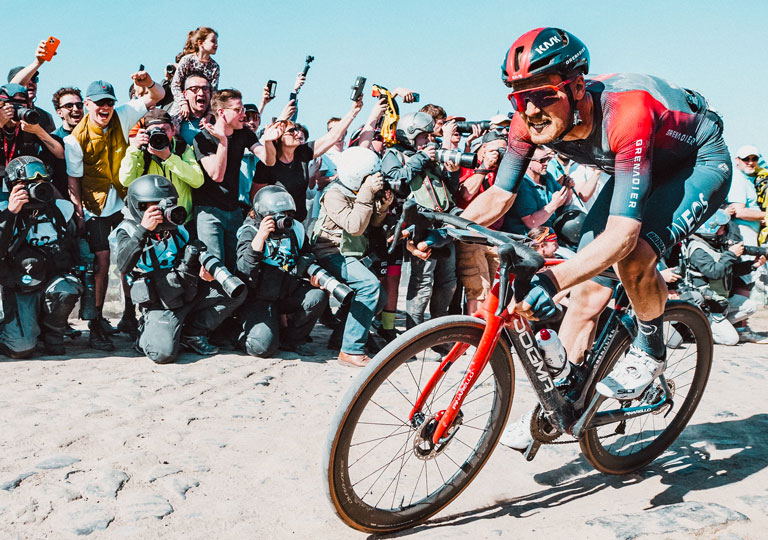 THE GRIT AND BEAUTY OF PARIS-ROUBAIX
THE HELL OF THE NORTH
Was not as hellish as the mudfest last fall, but pain, relief, and joy was etched on every rider's face during and after the race. The cobbles caused the usual chaos and Dylan van Baarle rose above it to take home the win.
THE BEGINNING
The sun shone upon the riders and fans, amplifying the anticipation of the race to come.
TROISVILLES TO ARENBERG
The dust and dirt engulfed the riders in grey clouds as they rumbled along the first cobbles of the race.
TO ARENBERG AND BEYOND
The racing got saucy. Sealent sprayed. Competitors kicked.
SIGNS OF PAIN
After Arenberg, riders faces became contorted with pain as they passed over the cobbles that erupt out of the road. Dirt covered everyone, spit and snot flew, and bloodied body parts were commonplace.
THE FANS
Thousands turned out to watch the pros take on the cobbles. The fans' joy countered the riders' pain. Through a classics season full of spectators, it's still refreshing to see cheering crowds after two years of limited fans.
THE FINALE
Attacks flew like arrows from the lead groups. Dylan van Baarle made his stick, kept upright, and rode away from a select group.
THE FINISH
Dylan van Baarle entered into the velodrome alone and raised his arms in victory in front of throngs of adoring fans. Wout van Aert sprinted to be the best of the rest.
CHAMPAGNE, SHOWERS, AND RELIEF
Riders reached the finish line, washed the mud and blood in the famous Roubaix velodrome showers, and hugged family. The last man across the finish line was Bas Tietema, his grit and determination was emblematic of the race.