Skip to content
Skip to navigation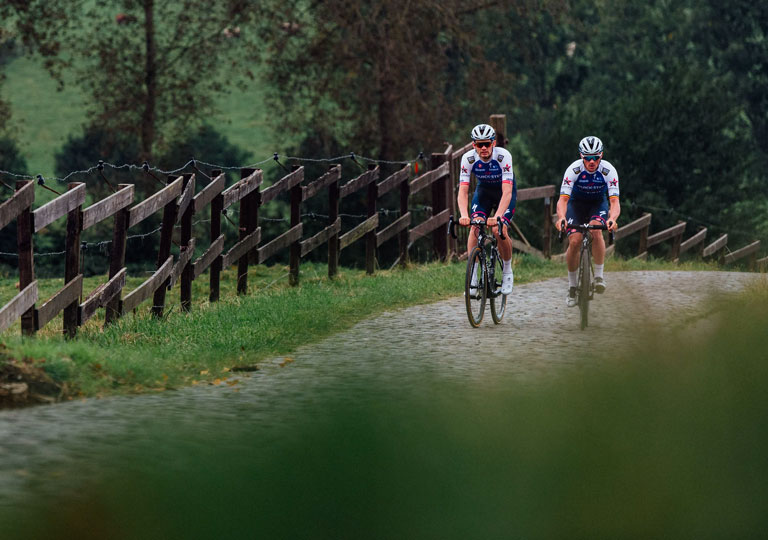 KASPER AND YVES IN FLANDERS
TEN DAYS
It's not a long time. That's all it was between this short day of shooting in the Vlaamse Ardennen and the day of absolute frustration for Quick-Step at this fall's Paris-Roubaix. Flat after flat after flat derailed all hopes of success on the day of days for both Kasper Asgreen and Yves Lampaert.

Ten days after the misery of Roubaix, there we were just a little ways from the Arenberg Forest - in the heart of what makes Flanders great, that little triangle between Oudenaarde, Ronse, and Berchem.

Ten days after the great frustration of Roubaix, we played on the roads of the great triumphs of spring - Kasper Asgreen's twin victories at E3 and the Ronde van Vlaanderen still just as vivid now as they were over half a year ago.

Somehow, we got Yves Lampaert and Kasper Asgreen as our very, very special "models" to shoot the debut shots for the 2022 Quick-Step Alpha Vinyl Team - Castelli's first with the world's best team.

It turned into two friends goofing around with us shooting.
ONE SUNDAY IN APRIL
The last time I had seen Asgreen and Lampaert on the Paterberg was with just over 15k to go until the finish of the Ronde van Vlaanderen back on the first Sunday in April. It was the 4th. The first time Yves and Kasper climbed the Paterberg for our shoot, it was impossible not to think about Kasper's head to head duel with Mathieu van der Poel.

It was such a startling image from that day - the two titans, side by side, matching each other pedal stroke for pedal stroke, neither giving an inch.
THIS WAY, THE PATERBERG
Kasper gets on with the Paterberg just fine, but Yves Lampaert? Not so much. He doesn't dream of this short climb but rather prefers the Kwaremont.
PATERBERG THINGS
It's amazing how much time we've spent on this short climb over the years. When I say short, I really do mean it. It's only FOUR HUNDRED METERS long! That's it. Taken out of the context of the race, it's just a steep little speed bump. When encountered in the decisive moments of the Flemish Classics, it's an absolute monster.
MISCHIEVOUS YVES, PART I
Each time up the Paterberg, Yves had been a little behind Kasper - never really going that hard. And then, out of nowhere, the last time up, Yves blasted off and attacked Kasper from the turnaround point and sprinted him to the top. It was one of those infectious funny moments where just watching two friends play makes you laugh out loud.
SIGHTS
I love Flanders. Just as Kasper and Yves talked about their thoughts on these races, what they love, what they hate, what it means to be a Flandrien - I couldn't help but think about our appointment with these roads in half a year. It's impossible not to see these scenes and not think about the races that have gone - as well as the races that are still to come. I love that about Flanders.
OUDE KWAREMONT
After a good session on the Paterberg, we headed to the Kwaremont for some more shooting - all the while keeping an eye out for people with phones out trying to take pictures. This was a top-secret shoot in the middle of the day.

The Kwaremont, Yves favorite climb of De Ronde. He likes it a lot. So does Kasper. Both prefer the hard-hitting length of the Kwaremont, which takes somewhere in the neighborhood of three to three and a quarter minutes to complete - but who's counting. I would like to point out that both Yves and Kasper mentioned how long the Kwaremont takes.

And somehow, during a slight lull, both Yves and Kasper disappeared for at least fifteen minutes for a coffee and hangout session with their teammate, Dries Devenyns, who lives in the village of Kwaremont. It was a funny "delay" in the day, but one that once again underlined just how insanely close these races and racers are. You never hear about football stars living in their respective stadiums, do you?
MISCHIEVOUS YVES, PART II
We left the Kwaremont in search of some wider roads for some practical video work, so Kasper took this moment as just the right time to attack Yves. Yves was decidedly unworried. He smiled at Kasper's attack, tucked in behind the car, tapped his temple once in the universal sign of brains not brawns, buddy - "bridged" up to Kasper and immediately countered him and left him for dead.
RIDING AROUND THE VLAAMSE ARDENNEN
This was one of those moments where it was really clear that we got REALLY lucky with the weather that day. It started out cool and almost raining, but somehow turned into this bright, sunny, warm day - a day in which it didn't actually seem crazy for two riders to be out in just shorts and a jersey.
WHAT DOES IT MEAN TO BE A FLANDRIEN?
Yves's answer is simple, perfect - the kind of thing we all aspire to:

"Someone who doesn't give up."
TWO TIMES KAREMONT
It wouldn't be right if we only rode the Kwaremont once, right?

At some point, Kasper did something to poke at Yves in some way - good natured, of course.

"There he goes, messing with me again! Every team needs someone they can pick on. That's me! I'm the perfect little brother."
HANGING OUT ON THE KWAREMONT
Adjusting his new jersey with his beautiful Belgian stripes on the sleeve, Yves (still clearly proud to see the black-yellow-red on his jersey) calls out:

"Kasper - you have to admit that the Belgian national stripes look great - better than the Danish ones.

" No one asked me, but I uttered my agreement.

Kasper, annoyed, but laughing: "Man, f#$% you, Yves!"

I mean, Yves is right - those Belgian National Champion stripes DO look fantastic. No offense to the Danes - red-white-red is lovely, but it's no red-yellow-black!
FUNNY PHOTOSHOOT THINGS
Towards the end of the shoot, Yves and Kasper are standing on the final few flat meters of the Kwaremont, before the race takes a left turn on to the N36. The sun is out, the clouds have parted, it's almost 12C - it feels pleasant for a mid-October day that only an hour before had looked like it was heading toward rain and single digit temperatures.

Kasper agrees: "It's warm! You know, if I were at home in Denmark right now, I might only be wearing shorts and a jersey.

" Yves looks over in disbelief: "Really?!":

Kasper shakes his head and laughs: "Absolutely not."

Yves: "I never know when you're messing with me!"
FOOTNOTES
Words and images by Jered Gruber