Skip to content
Skip to navigation
MONDAY
Words and Images: Jered and Ashley Gruber.

It's Monday, April 12th, 2021. I'm supposed to be exhausted, sore, bleary-eyed after a 20hr day chasing Roubaix, followed by a long night of editing. Instead, as you well know, we watched Sunday come and go and for a second straight year - no Roubaix.

There's light at the end of the tunnel though, and while a postponement to October isn't everyone's favorite, I can say that these two photographers, still reeling from a stage race of sorts at the Flanders Classics, will be very excited to take on the Queen of the Classics the first weekend in October - with the women leading the way on Saturday and the men following on Sunday. It's going to be a truly special one-two, and I can't wait to be a part of it.

For now, let's take a look back through some of our favorite images from the last ten years: recons, rides, the race, a little bit of everything.

We'll start at the end, in the showers, and go all the way back to Compiègne.
THE ROUBAIX SHOWERS
The Roubaix Showers were once a well-used and normal part of the Roubaix routine. In our new world of wonderfully well-appointed team buses equipped with showers, these stone cubicles in this well worn locker room are beautiful just to look at. It took me years to gather the courage to go to the showers. I always thought I would be turned away, yelled at, or worse - whatever that may be.

Instead, in 2018 - my first trip - I found the showers largely quiet - with only a few riders looking to partake in a little bit of Roubaix history. A year later, the scene was very different - onlookers, photographers, riders, all mixing to form a bit of a comedy scene - but at the same time, still beautiful, still special.

In this moment, photographers and riders alike get the chance to imagine what it must have been like some decades ago. I love seeing riders as very, very, very well-deserving visitors to the halls of Roubaix past - fans of Roubaix history, Roubaix lore. It's a rare moment.
A FEW MINUTES BEFORE THE SHOWERS. 2019.
Dirty, broken, so happy to be finished - or maybe horribly disappointed. A missed opportunity, yet another missed opportunity (Sep Vanmarcke's tears of frustration stand out more than anything after his umpteenth near miss in his Roubaix career), joy, exhaustion. It's all there. It's all on the green grass of the velodrome infield.
AFTER HELL.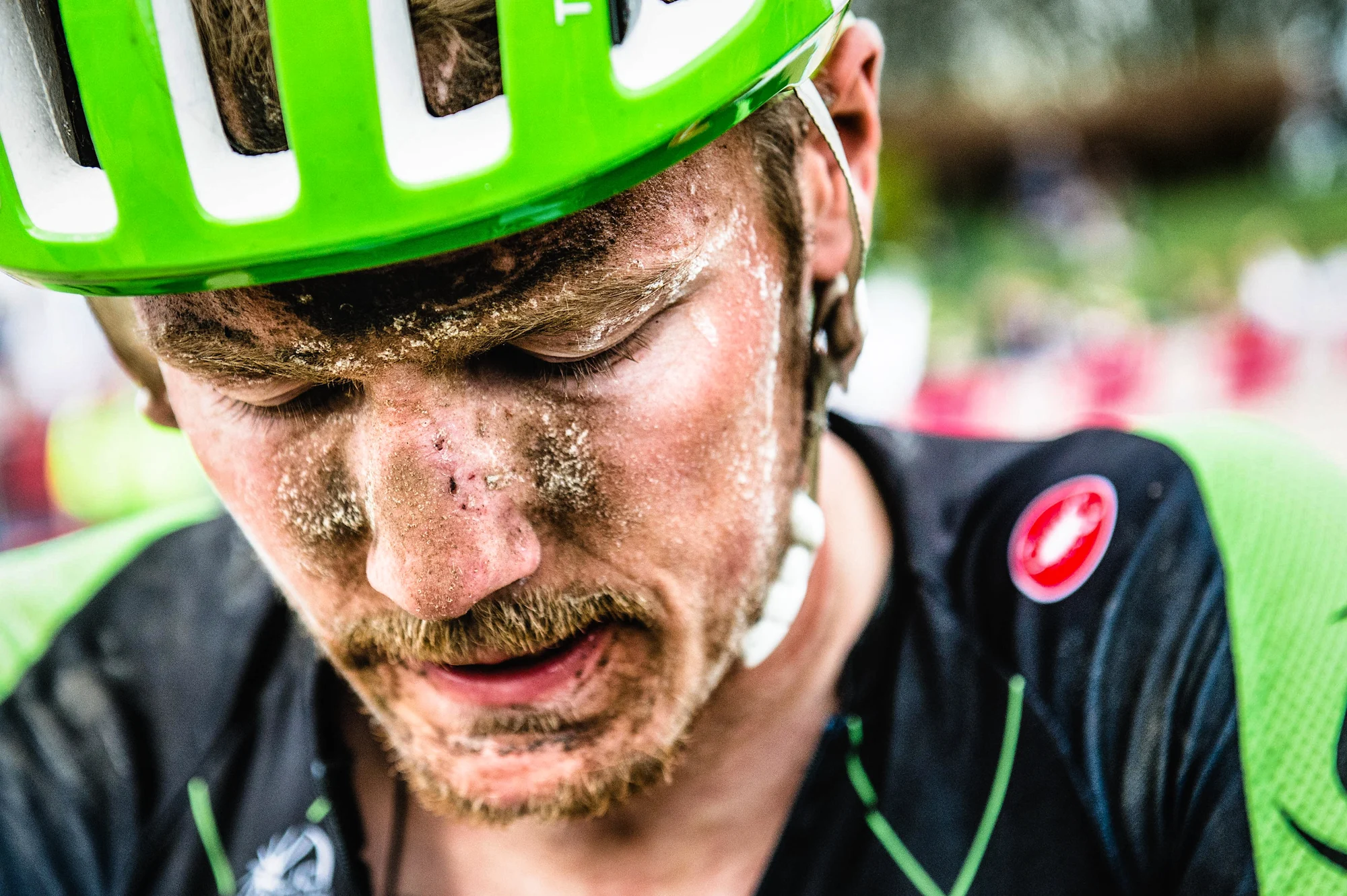 THE VELODROME
There are few places in cycling - maybe none (I haven't encountered it yet) - that give quite the feeling of the Roubaix Velodrome on a Sunday afternoon in April with the stands packed with fans - with every available viewing point packed with fans - and then the roar when the leader or leaders enter the velodrome. It gives me goosebumps just writing about it. And the roar - the roar when a hero wins - or the quiet when the unexpected happens (HAYMAN!). It's arguably the most revered finish in all of cycling.

If you asked me (and you haven't - but I will pretend that you did), I'd rank it simply: 1. Roubaix; 2. Strade Bianche's spectacular finale on the narrow streets of Siena and the dazzling open space of the Piazza del Campo; 3. The Champs Élysées.
THE VELODROME...ON A NORMAL DAY.
And then there's the Roubaix Velodrome the other 364 days a year. We rode the route of Roubaix last fall, the day before Roubaix was supposed to have been ridden. It was a chilly, damp, beautiful day. We arrived to the Velodrome in the final moments of the late autumn daylight, and yet again, race or not, we had that feeling that this finish provides so generously - like we're tip toeing in the footprints of the legends that have passed before us, chasing our own dreams as cyclists. It's a wonderful feeling.
THE DUST.
2002 - the last wet Paris-Roubaix. There isn't a rider left in the professional peloton that was there that day. Instead, the long series of gloomy, wet, muddy Roubaix editions of many years ago have been replaced with (generally) dry, fast editions - and some VERY dusty ones - where visibility early on is a highly-valued commodity that only a select few riders are able to enjoy.
ROADSIDE, PART I.
Paris-Roubaix has its own feeling, its own soul. The images of people and the walls along the roadside along the route are different than any other race.
LATE IN THE DAY.
When I shoot in Belgium, I can tell you within a couple of meters, everywhere a shot was taken. They all stand out so vividly. They all have their names, their spots, their memories. Roubaix isn't like that for me. I've gotten better about it with time, but I still struggle to remember all the sectors. The way the race progresses, it feels like everything blurs together in one giant storm of chaos. The race generally feels like chaos - the chase outside of the race for us to make it to our next spot feels like chaos - even the basic act of shooting feels like chaos. It's insane. On the right day though, when we get into our groove and things are going right, it's a LOT of fun.
VIEWS.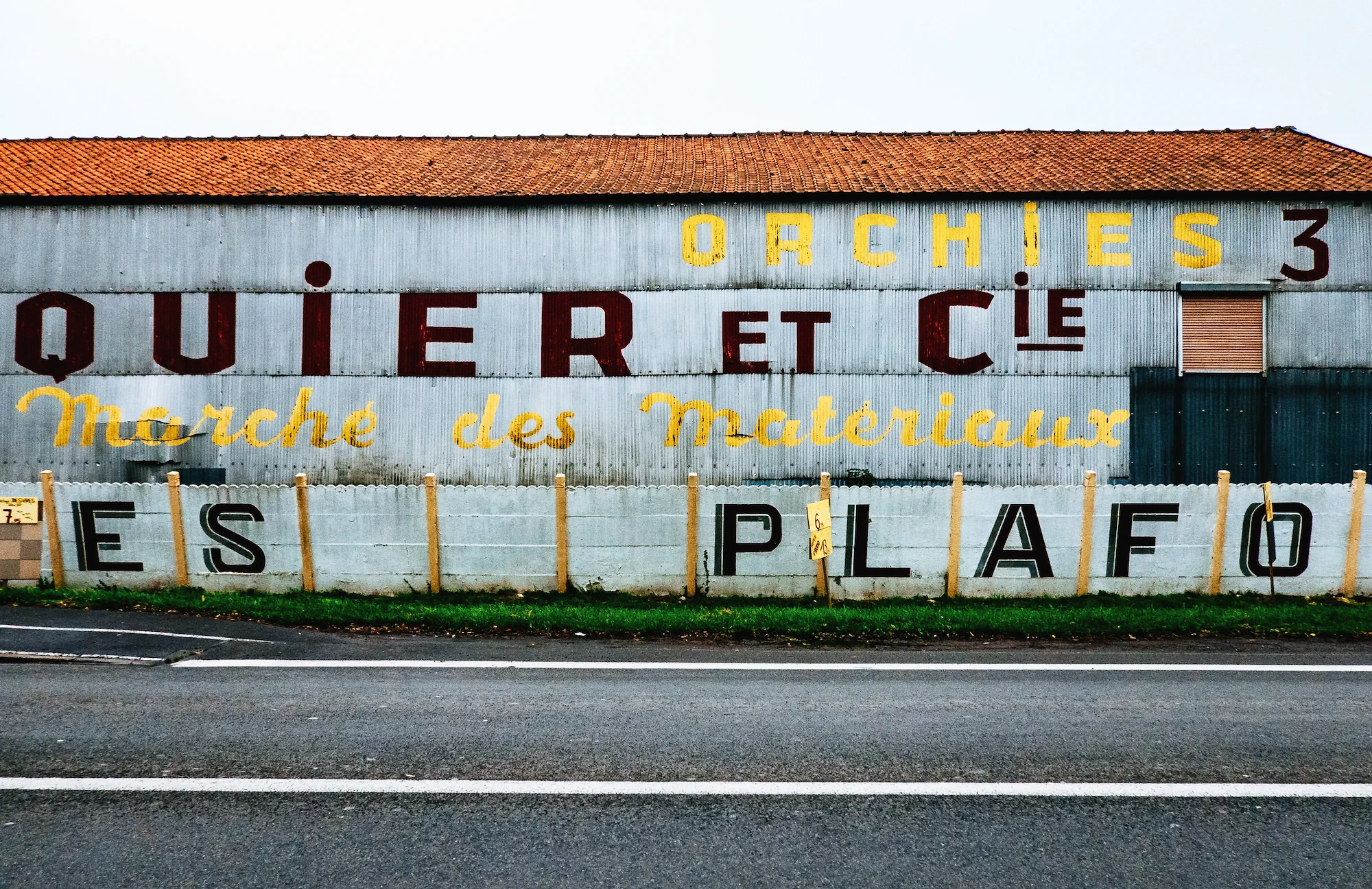 BUSINESS.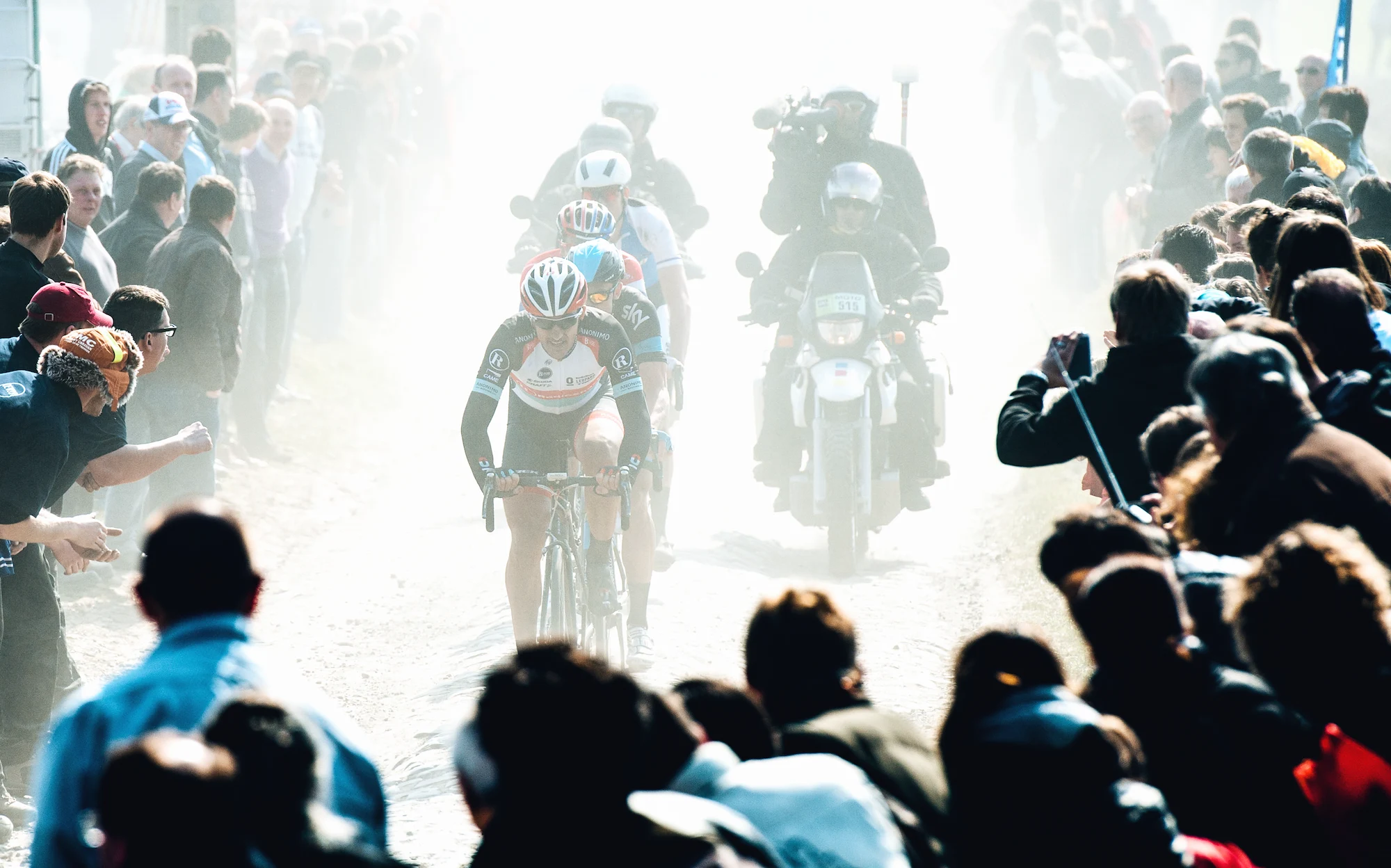 ARENBERG.
I don't think there's anything I can possibly say to add to the lore of the Arenberg Forest. In brief summary: it's beautiful, it's savage, it's straight, the old railway bridge at the entrance to the forest is one of the coolest vantage points in all of cycling, and there's absolutely NOTHING like the cobbles of Arenberg.
ARENBERG. RACE DAY.
Unsurprisingly, back when fans were a part of cycling, the Arenberg Forest got a tremendous outpouring of humans and energy. It's a special spot in the race - and it truly signifies the entrance to the part of the day where the race is won or lost.
RECON MOMENTS.
The thing about looking through the vault of Paris-Roubaix images is that for every edition of Roubaix, there's at least one day of recons. Some of our favorite images from Roubaix are from these rides on the Wednesday or Thursday before the main event.
ROADSIDE, PART II.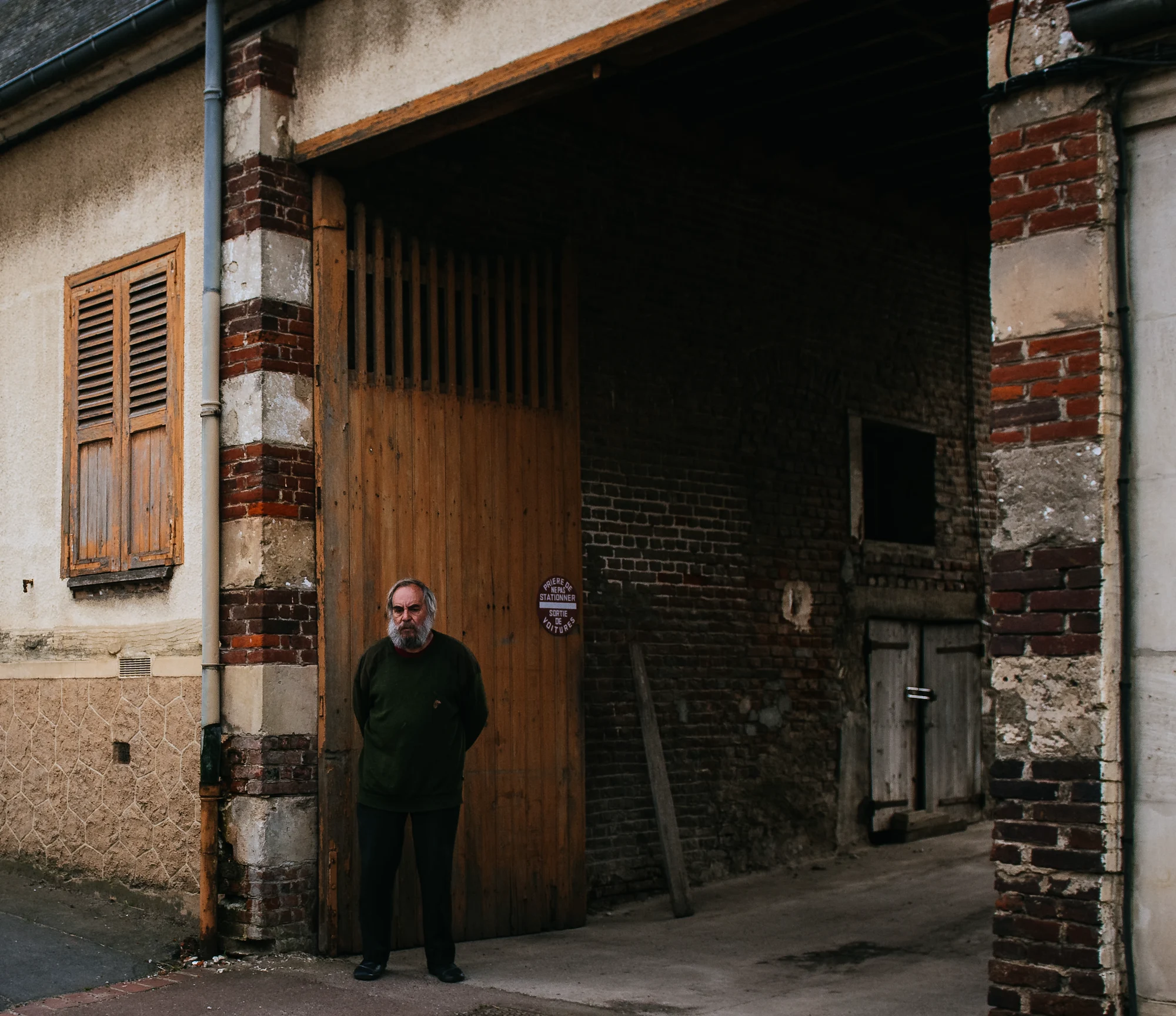 EARLY GOING.
Personally, I'm a huge fan of the early cobbles of Roubaix - aka everything before Arenberg. The roads through the fields are actually - without exaggeration - beautiful. Later on, the race gets more and more...not pretty. At that point, it's a moot point, because all that matters is the RACE, but it doesn't mean that I don't get excited to shoot the first part of Roubaix.
EARLY COBBLES.
Like I said, it's beautiful out there between Troisvilles and Arenberg.
JOHAN VANSUMMEREN.
Back in 2012, we had the chance to shoot Johan Vansummeren on the Roubaix cobbles for Castelli. It was a special day as we got the chance to watch a Roubaix champion do his thing on a grim 16 November afternoon. We had a lot of fun that day and will never forget Johan showing up to the shoot without a helmet - he forgot it. It took a solid couple of hours to source a helmet and left us shooting in near dark by the time we got to Roubaix, but finding a sponsor-correct Giro helmet in as short of a period of a time that we did still stands as one of our prouder problem solving moments.

I will also never forget the way he rode the cobbles of the Carrefour de l'Arbre at the end of the day. I felt like it was 2011 again, and he was riding away from his breakaway companions, riding to hold off Fabian, riding for his chance to enter that unbelievably select group of Roubaix winners.
COMPIÈGNE.
And here we are, over six hours earlier, on a cool spring morning over 260 kilometers and nearly 30 sectors of cobbles from Roubaix. There's no pain in the legs, no crusted faces, no tales - yet. They'll come soon enough.