Skip to content
Skip to navigation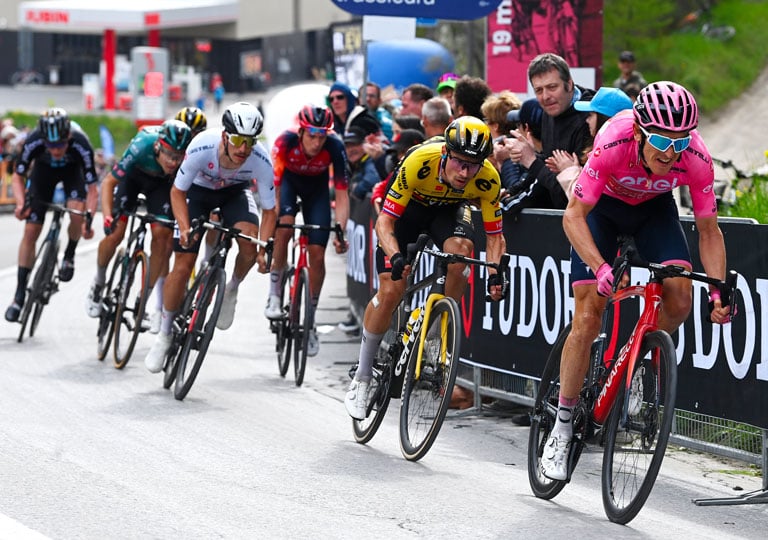 Giro d'Italia & Marginal Gains
Meet Steve Smith, Castelli's brand manager, and a true Marginal Gainer since his early days racing bikes in Portland, Oregon, USA. In this exciting episode, Steve shares his insights into wind tunnel testing, offering a glimpse into the innovative products that can make a substantial difference in your cycling performance.

Ever wondered how the Giro d'Italia classification leaders stay ahead of the pack? Steve takes you behind the scenes, revealing the cutting-edge aerodynamic and foul-weather gear supplied to the pros at the Corsa Rosa.

Gear up and get ready for an exhilarating ride!
TOPICS COVERED & TRANSCRIPT
(00:00) Welcome
(01:45) Riding 240km to watch the Giro d'Italia
(02:52) Foul-weather rain products
(04:44) Product testing program
(06:08) Giro d'Italia, leaders aero and cold/wet gear
(08:24) Giro d'Italia, TT Suits
(10:45) Wind Tunnel testing
(11:50) Track racing and supporting the Italian National Team
(12:40) At what speed does aero clothing make a big difference?
(14:16) Best Castelli products for marginal gains?
(16:30) Most aerodynamic riding position?
(17:16) Wind tunnel tested gravel gear
(18:03) Giro d'Italia, how to dress for the epic mountain stages
(19:29) Giro d'Italia, how to dress for the crazy steep ITT on Saturday

Søren Jensen
Hey, what's up, everyone. Welcome back to the Castelli podcast, provided by the people behind the brand and the iconic product innovations. I'm your host, Søren Jensen, marketing manager, and in this week's episode, we'll dive into the gd Dalia aerodynamics and what products make a big difference in a professional athlete's cycling, clothing arsenal, internal testing, and more. We will also take some of your questions in this episode, and remember to submit your product-related questions or topics you would like us to discuss on a future episode on Spotify Q&A through the contact form on our website or DM us on Instagram or Facebook. So without further ado, let's kick off this second episode with Castelli's brand manager Steve Smith and the guy who turned Castelli into the brand we know today and his product innovations. So let's welcome Steve. I know you just got back from the Giro, riding almost 230 kilometers from home in Bassano del Grappa on Sunday to the finish in Bergamo, and then attended the RCS Sport presentation on Monday, announcing the four-year contract extension between the d Delia and Castelli. But it's not the first time you ride to one of the Giro stages by bike on stage nine. That was the second individual time trial stage you road down to Cesena, covering 240 kilometers in pouring rain to test some of our new products and materials. Can you tell us more about the products or materials you were testing?
Steve Smith
Hey, sorry. Nice to see you again. Sorry, I've been out of the office a bit. So no. Having the Giro stages on consecutive weekends, a nice longish bike ride from home. So I took advantage of that because in June, I'm gonna go do the Tuscany Trail. It's 480 kilometers on the gravel bike, and we're gonna try to do it in two days. So having some good long rides like this was, it was a good chance. And then just by chance on the stage to Chico, the time trial where Remco won and then went home, forecasts were for rain. So first, I was like, do I really want to go out there in the rain? But we've got some new stuff coming for the team and then for the collection and then in the not-so-distant future. And it was like, wait a minute, here's a perfect chance to go out there and get long chance under the rain to test this stuff out to see how it holds up over extended rain, but yet without being so cold, because the forecasts were from nine to 14 degrees and that's about what it was. So out of seven and a half hours, I had about four hours of that under the rain.
Søren Jensen
Can you already tell us more about some of the products that you were testing on the weekend? I know we have something new and exciting coming soon for all the Gabba and Perfetto jacket fans.
Steve Smith
So it's more of a system of, for riding in the rain. So there's a new shoe-cover and a new glove. They're coming out in Winter 23, so that's the Delal one glove and the aero race booty. So these are both products made principally for riding, racing in the rain which was absolutely spectacular. Just warm hands, warm heat the whole way. You know, after it, it, it was coming down hard on a week from Sunday week could go Sunday and eventually it did wet out a little bit, but I was still really warm. So warm and wet is is okay. And then the jacket is just something we were working on for a while. It's gonna be a next evolution for the Gabba. So we'll see it in the future. It still needs some more work, but I put a slicker pro jacket in the pocket cause I wasn't sure it would hold up to that long of rain. And it was, it was spectacular. I didn't see a significant difference between dry and wet. I started out two hours in the dry, then two hours of hard rain, it stopped raining again for almost two hours, you know, dripping wet roads. And then it rained hard again for the last hour and a half, but it was, it was no problem.
Søren Jensen
That's also the perfect example for bringing home new product innovation ideas to our product team. Innovation is in our DNA, the constant search for making cyclists go faster and further and greater. Comfort has been the driving force of the brand for decades, changing how professional cyclists dress. And part of the success has been the internal testing program, where we can ride directly into a sample room after lunchtime and show the project engineers what needs to be changed or modified. But Steve, can you go into a more detailed description of how this product testing program and protocol works?
Steve Smith
Yeah, no. So we'd start out with a the whole process with an idea of a, of a, usually with an improvement that we can give to to riders. So we'll start out with, with a brief, we'll design a product, we'll find the right fabrics, we'll make up some samples, we'll try them on internally, maybe do an easy ride, but then make up a few more for our test group and, and we'll go out and test them in the conditions that they're made for. And then that, that feedback to Sonia on the product development side, Stefano on the patterning side. And then with having our sample room inside here, we've even done times where we'll make up a sample in the morning, write at lunch, make changes in the afternoon, right, again, in the evening. So I think our records went through 14 rounds of samples in 10 days trying to dial in a short one time. So if we do that with Asia production, that would be about a three year development cycle, and here we can do it in, in 10 days.
Søren Jensen
Yeah, that's one of the great things about having our own sample room here at the headquarters. And one of the key things to the brand's success is to do all those on-the-fly adjustments to the collection and the products. So let's circle back to the Giro d'Italia and RCS and all the amazing performance products that Castelli is supplying to the category leaders.
Steve Smith
So the Giro d'Italia, we give not only the standard leaders jersey but for any possibility of cold and wet conditions, there's a whole arsenal of products for the rider. So you start with a lightweight vest and arm warmers, which you see a lot of the guys wearing at the start of the stage. Then we move up to that level of medium rain without too being too cold. And there they'll put on the Gabba, the short sleeve rain jacket. From there, they go to the Profe Longsleeve jacket, which we saw Gar Thomas in doing that. Yeah, horrific rain all day stage. And then from there, there's actually also a, a version of the Slicker Pro with a bit of Giro colors on it. So yeah, if you're a leader in the Giro, you're better protected than you are with your normal team kit.
And then going the other direction in for pure aero aerodynamics, we've made the, a version of the Sanremo BTW suit for these guys where we've because you have a new leader possibly every day, and having to make a suit that can fit for everyone, we've really worked hard to engineer a suit that's actually more stretchy than our standard suits, so that no matter who wins it, we can, we can dress it with them. So, Jonathan Milan is actually size large, tall, and big, so he's been in the Chimino but in the speed suit. And then you've been seeing Garrett Thomas, who we know has only sometimes been, the rider that prefers the speed suit. It's typically going more for a jersey and shorts, but he's also been in the pink leader's leader suit. So and that product we're developing, you'll see it in summer 24 in the collection and then going into custom. Actually, we've already made it faster thanks to wind tunnel testing in April. So we're already faster than what we were able to supply in time for the Giro.
Søren Jensen
Remco Evenepoel dominated the first two TTs beating some of the best TT specialists like Ganna, Kung, and G. One final one on Remco; he forwent sleeves for a sleeveless suit. This goes against aerodynamic dogma. What do you think?
Steve Smith
Well, yeah, it's true. And if you look back at that, he put almost a second per kilometer into Ganna on a short time trials. So they would've been a little bit closer. But it's, it's actually really interesting to compare and contrast Ganna and Remco, because a lot of what Ganna has, even what he's using today, is stuff we developed him for him over the years with sky and, and INEOS. In fact, our relationship with Ganna goes back to 2012 when we had this young 17-year-old tall kid with a flat back that we used as a test dummy in the wind tunnel. We were making stuff for Rider ol for the jta. So I've, Ganna helped us out then, and then we've worked with them over the years. But with Ganna we've worked a lot with the aerodynamics around the shoulders, around the arms, you know, through the back, through the hips.
And we had a pretty good setup and act. Indeed it is. We can make most people even the 2% faster by adapting this set of tools that we have developed with Ganna. And then we tried with Remco, and everything we thought we knew with Ganna didn't really work with Remco. So we, the theory is that is because his shoulders, he's so compact when he rides that the air basically his, his shoulders and hips, everything is, is in dirty air rather than clean air like Ganna, because he's got such a compact position in the front and then he keeps his shoulders in so tight. So with him, we found that he's better off with short sleeves and the shorter the better. So the quarter, the shorter we cut them even up to like a cap sleeve, the faster it goes. But then, at some point, the need to have the sponsor logos on the sleeves has led us to choose that kind of is is better about the shortest sleeve as you see on anyone. And the same thing is actually on the legs. If we put him in hot pants, he'd be even faster. But there's a certain point where, yeah, sponsors and common sense of decency take over.
Søren Jensen
Yeah. Oh, maybe body painting the team logos on. When talking about aerodynamics Castelli, we spend a decent amount of time, hours, days, weeks in the tunnel every year. Can you describe what is happening when we go to the wind tunnel? A typical day at the tunnel?

Steve Smith
Yeah, so a day in the tunnel is obviously a big investment because wind tunnels with all the engineers and the facility and the energy just to dry them don't come steep as cheap. So a day in the tunnel will be the last point of even months of preparation. So there's a whole theory part. There can be the CFD analysis, there's a sampling. We've gotta get really dialled in because a lot of the testing will use a surrogate to do some of the testings because we can't stick a pro in the wind tunnel for 13 hours. So we have to get the samples dialed in for the person. Then we'll go in and do multiple rounds of tests. We'll typically be in a tunnel for 11 or 12 hours, which a short break for lunch and, yeah, get the most out of that day.
Søren Jensen
What about all that hard work and advice that goes into sponsoring and supporting the Italian national cycling teams and supporting them for some of the key wins like the World Championships and the Olympics.
Steve Smith
We've got an accumulated knowledge base of, of how to make people faster. So with the Italians, we've, yeah, gotten 'em to be at least the level of setting world records. And we have some new stuff coming for Tokyo that we'll show it'll be used at the World Championships in Glasgow and that's a qualifying event for, for also for the clothing for, for Tokyo. So there's a few new tricks we'll have for there. And yeah, it's hard. It's becoming harder and harder to get those aerodynamic gains, but every so often we find some significant gains and there's still just so much left to do.
Søren Jensen
E amateur cycles might be shocked by some of the speeds that top riders can average. So at what speed does aero clothing actually make a big difference?
Steve Smith
Yeah, well, an engineer will tell you of course, that it's le linear; it is proportional, actually. So you can have gains even if your average is 18 kilometers an hour. And so the actual time gain, over the distance, might be similar to what even a pro rider will get at, at 50 kilometers an hour. That being said, we can also, with the fabrics, with the interventions, with the way we make this work we can, tune garments to a specific speed. Like the Italian national team, we've tuned their setup to that 64 kilometers an hour that they'll hold once they're, you know, basically takes 'em a lap, only just 250 kilometers to get up that 64 kilometers an hour speed, which is pretty phenomenal. But for, in that case, we can tune a garment to a very specific speed in ca in the case of road pieces or even track omnium events. So we'll, we'll look for a wider range of tuning where the product is good over a wider range. But typically, a product is good; even at 64 kilometers an hour will be good at 40 kilometers an hour, and it will even make a difference at 30 K an hour, but it's optimized for a specific speed.
Søren Jensen
So to wrap up this episode, an aero topic, let's take a few questions from our listeners. Andy from Antwerp in Belgium asks what are the best lowest-cost Castelli products to gain more aero?
Steve Smith
Okay, so in terms of our products, the first thing would be speaking specifically of the road, either to go into our BTW suit or the Sanremo suit, which are both optimized for high speed; the BTW ends up being a little bit heavier and warmer. So if you're not in a warm day, that's the a good one or the Sanremo speed suit is essentially the same speed suit as what Carapaz used at the Olympics in the hot weather. So it's the widest range of conditions that you'll be super fast in if you do not want to go for a full road suit on the, yeah, for your, for your road riding, then that aero race, 6.1 jersey is, is ideal. Good lightweight, really aerodynamics, so they're for 125 Euros, you're, you're into one of the most aero setups out there than to spend another little bit, believe it or not, the feet make a big difference.
So we make an aerodynamic sock, which is I've seen independent testing from other people who still show that as the most a sock or if you want to go ahead and cover up your foot, our fast feet TT booty, we call it a TT booty, but it certainly works on the road. So both of these products so it, when we tested it out at about 50 kilometers an hour, you get, get about three-watt savings out of the TT booty or about two out of just the sock. So for that 40 euros or so, that's the biggest aero gains you can have for the least amount of money. And then, you know, don't forget position's important. So you know, keeping your shoulders in your arms, in keeping your elbows bent that's essentially free unless you go out and buy some aeroer bars. But narrower is faster for sure.
Søren Jensen
Then if you think about that, the body position plays about 75% when it comes to aerodynamics. So wearing aero clothing, like our speed suits, and having the right aero body position is massive. And that actually leads to our next question, Marco from Bergamo in Lombardi is asking, what position is most aerodynamic riding with your hands in the hoods or down in the drops?
Steve Smith
Yeah, yeah, we haven't done a lot of testing with the levers inwards, but obviously that's, we know, that's fast. Lots of people have tested that. One interesting bit that we've noticed is that riding between riding on the hoods with your forearms parallel to the ground or riding the drops, we don't really see a significant difference with different riders. It would be a tiny difference, but not a significant amount of difference. Obviously if your hands are on the hoods and you're sitting up straight, then you're, you're giving up some aero. But yeah, hoods, hoods are drops as long as your forearms are low, it doesn't make a big difference.
Søren Jensen
And that leads us to the last question from Lionel from Lausanne in Switzerland, he's asking if Castelli ever wind tunnel tested any of our unlimited gravel clothing products.
Steve Smith
We have something new coming, but it's gonna be summer 24, but before we bring it out, but something, yeah, for racing and, and gravel, gravel endurance races, we have something really cool coming, but yeah, let's maybe save that for a later podcast. So we'll, we'll tell you more about it.
Søren Jensen
Yeah, so that's a small spoiler here of what is coming. That's really cool and exciting. We'll for sure dive into this era gravel topic sometime next month in June and after our summer 24 sales meetings and the unbound gravel event, let's transition back to the Corsa Rosa and how to dress for the last two epic mountain stages on Thursday and Friday and the crazy penultimate TT stage on Saturday.

Steve Smith
You know, most of the time they'll be racing their road suits and then probably put a jacket on for the descent. So it's fairly straightforward to dress for today for Friday with the GMA going up over 2,300 meters. If it's wet, then we're gonna see 'em pull out. Yeah, a lot of clothes. So what can work really well here is also to put on an insulation layer, like a proto vest or a Gabba, and then you can put a, a rain cape over the top of that, you know, but this is in cases where these guys are making the descent, so it'll last half an hour. So it's wanting to keep a lot of heat in the body. You definitely wanna keep the body warm, but this supplies to you and me too. It's like when we go up in the mountains or where it's gonna be cold and wet; then we just need to, yeah, put on, just keep adding layers until you stay warm in the upper body. But there's a lot of, you know, series of products in the collection where you can stuff you can put in the pocket, pull it out and just keep your key, your body warm, and then pay attention of course, to your hands because you gotta be able to break still and shift and everything.
Søren Jensen
Let's talk about Saturday's insane steep TT stage and how important aerodynamics is. If you look at the numbers, Monte Lussari has a seven-kilometer at a 12% average gradient and more than five kilometers averaging at 15%.
Steve Smith
Well, so before they hit that last seven kilometers of climbing but before they hit that, I think there's about 10 kilometers of flattish, so that'll still be fast. So there's still some good aero to be, to be gained. So yeah, it would still be in a full aero suit for that first part. And then I mean it's not any penalty to use that on the, on the upper part. Obviously, when it's 18% you'll be going so slow; the aero gains aren't that big of making that big of a difference. But yeah, there's not really a time trial anymore. The era wouldn't play a bit of a role.
Søren Jensen
But the Giro could easily see the maglia rosa leader lose more time in the space of 15-20 minutes than they won through the entire race so far. Most of us still have pictures of the penultimate stage of the 2022 Tour de France where Pogačar crushes Roglic by nearly two minutes to seal the overall victory. And, I think that's a wrap for this week's episode. Thanks to Steve for joining the pod and giving us all his insider information on aero clothing and aerodynamics, the Giro d'Italia, and how to dress for wet weather.
Steve Smith
Yeah, thanks. I'm sure we'll see you again.
Søren Jensen
If you enjoyed this episode, make sure to subscribe. Give us a five-star rating to help us be seen in the algorithms. If you have a Castelli product-related question, email us from the contact form on the Castelli website or DM us on Instagram and Facebook.