Skip to content
Skip to navigation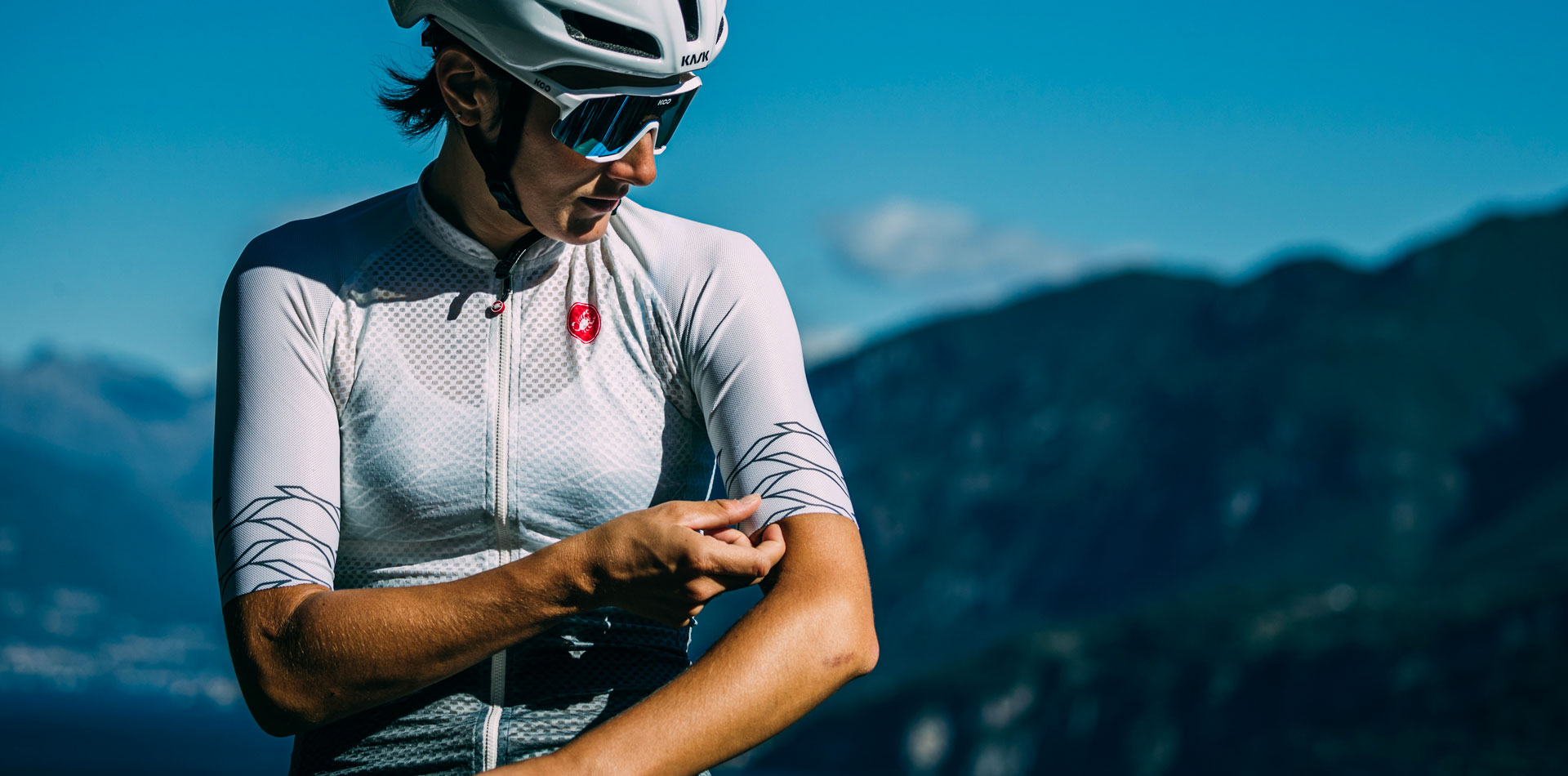 FIND YOUR IDEAL JERSEY!
THE CASTELLI CYCLING JERSEYS GUIDE
Why are specific cycling jersey essential when you ride a bike?
A cycling jersey isn't just a piece of clothing, it's a high-performance garment engineered for ultimate comfort and functionality. Designed to fit snugly against the skin, it helps regulate temperature and reduce wind resistance, ensuring that you ride at your very best.

Constructed from advanced technical fabrics, our cycling jerseys are purpose-built to wick away sweat and keep you dry, making them far superior to regular cotton t-shirts. With strategically placed pockets, they provide ample storage for snacks and spares, so you can keep going for longer.

Whether you're a road or gravel cyclist, there's a jersey to suit your needs. And with a range of styles and materials to choose from, you can find one that's perfect for any weather condition.

Gone are the days of itchy, uncomfortable wool jerseys. Today's cycling jerseys are a true feat of engineering, offering superior comfort and performance to help you achieve your cycling goals. So if you're serious about cycling, a high-quality cycling jersey is an essential piece of kit that you simply can't do without.
PREMIO, PRO, ENDURANCE, ELEMENTS
Castelli has selected a comprehensive range of cycling garments, including jerseys, and organized them into four distinct categories: Premio, Pro, Endurance, and Elements.
Our most exclusive category, Premio, boasts the highest quality garments, made with precision and attention to detail, like our Premio Black Jersey and our Essenza Jersey for men, and our Premio W Jersey for women.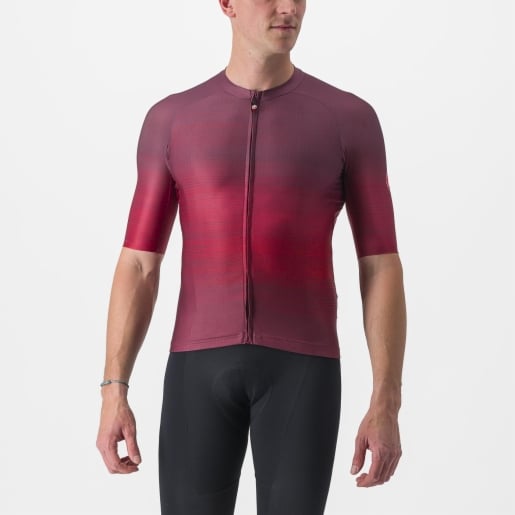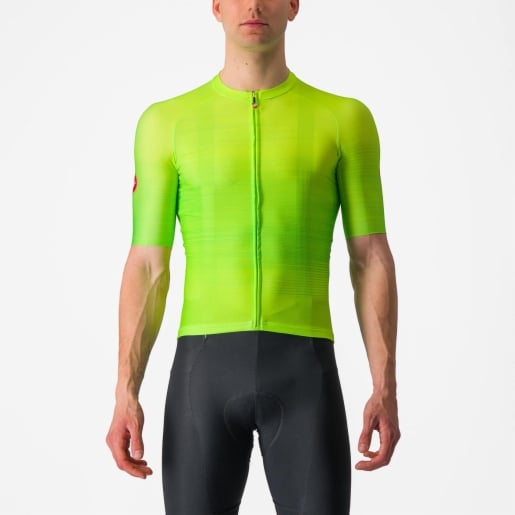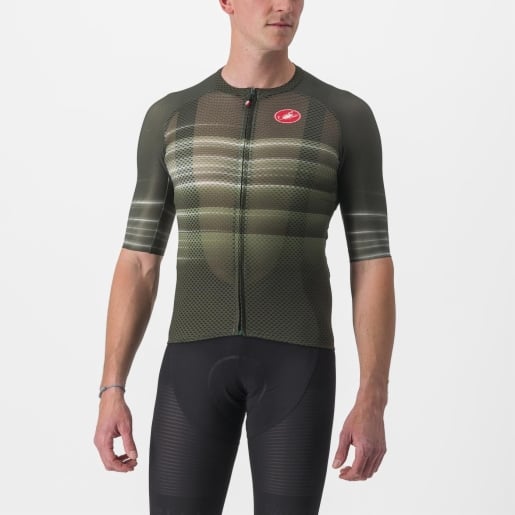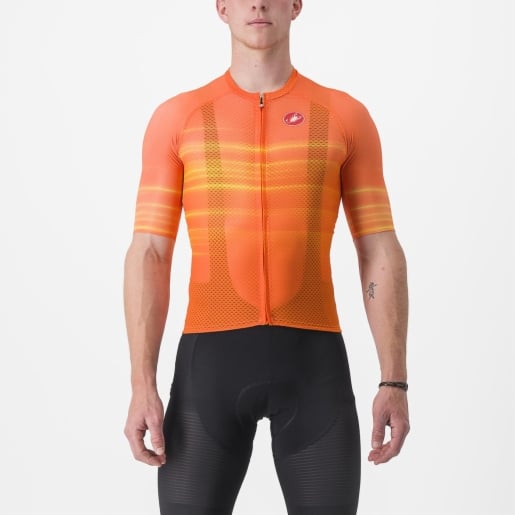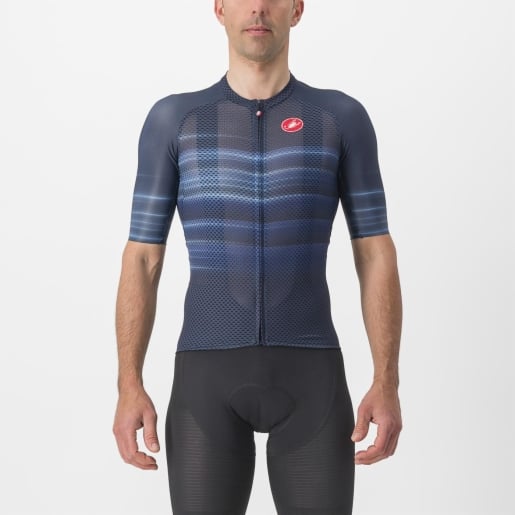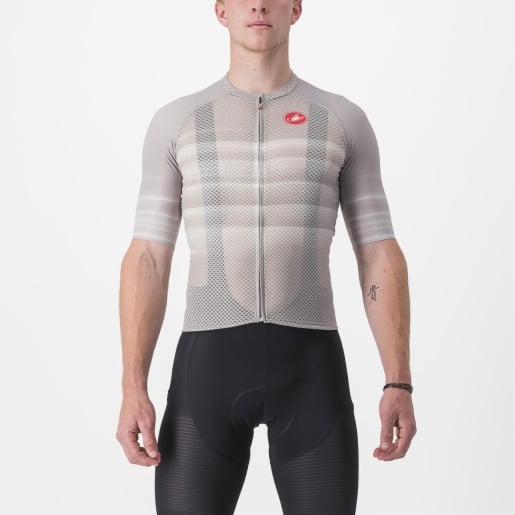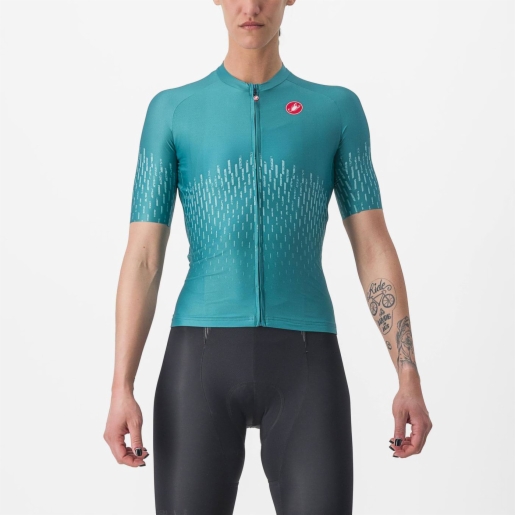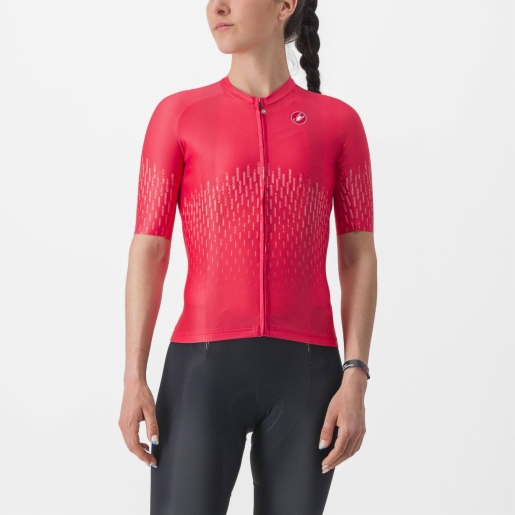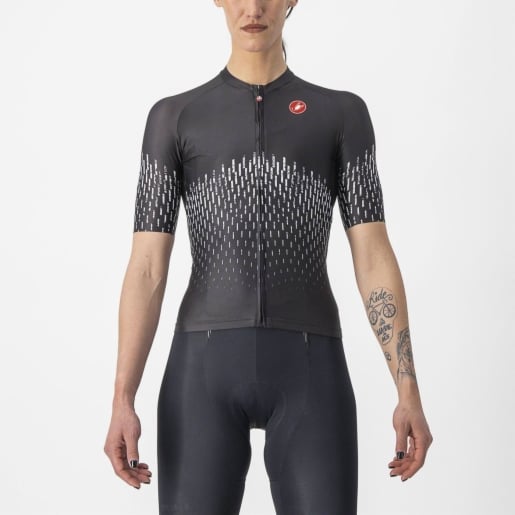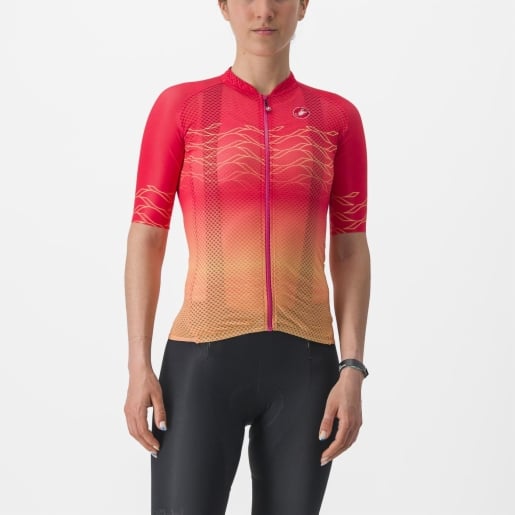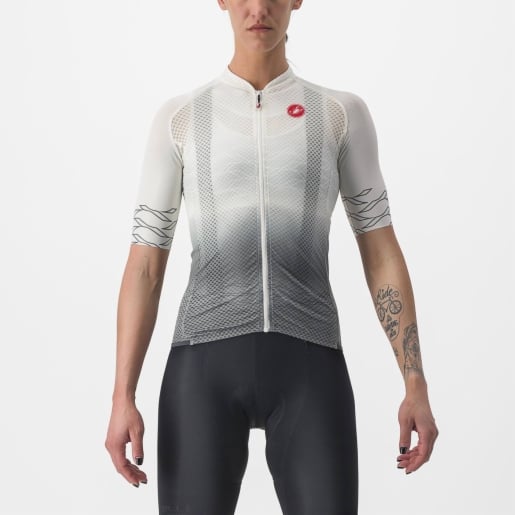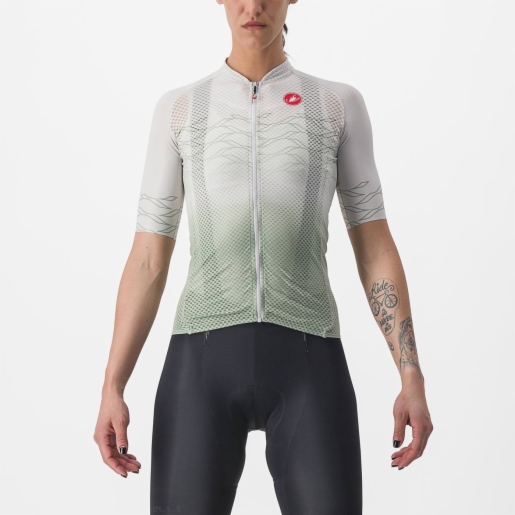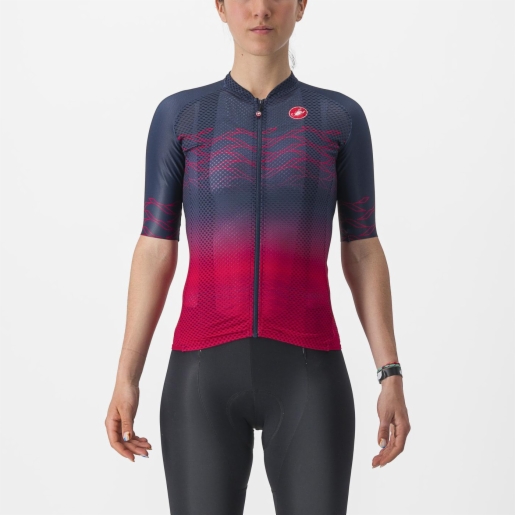 35% OFF
Lastly, the Elements garments don't compromise on quality, but instead offer a more accessible option to those starting out on their cycling journey. Many jerseys belong to this category, including the A Blocco Jersey for men and the Anima 4 Jersey for women.
MAIN FEATURES
When searching for cycling jerseys, people tend to look for a variety of attributes. Here are some common attributes you might consider when choosing our cycling jerseys.
This is often the most important attribute people look for. A good cycling jersey should be comfortable to wear, especially during long rides. Features such as lightweight, breathable fabric and innovative design elements that increase ventilation and moisture-wicking properties are all important for comfort. For example, our Superleggera 3 Jersey is the most comfortable in warm to hot weather because it is so light you'll hardly notice you're wearing it. Made from high-quality stretchy materials, our cycling jerseys feature a tailored cut that allows for freedom of movement without excess fabric flapping in the wind, and well-placed seams that reduce chafing and irritation.
Cycling is a sweaty activity, especially when it's hot. People want cycling jerseys that can wick away moisture and keep them dry and comfortable. Our jerseys, made with moisture-wicking fabrics like polyester, keep riders cool and dry by drawing sweat away from the skin and allowing it to evaporate. Their excellent moisture management is key to their comfort and performance benefits, allowing riders to focus on the road ahead, without being distracted by discomfort or irritation. Made with lightweight polyester fabrics like the Flusso 3D on front and sleeves and the StradaPro 3D on back, our Climber's 3.0 SL2 Jersey dries instantly.
Cycling jerseys can be an investment, so people want a jersey that will last. For this reason, looking for jerseys made from high-quality materials that can withstand frequent washing and wear is essential for any serious cyclist. We're talking about fabrics featured in the Endurance Elite Jersey and the Endurance Pro 2 Jersey, known for their durability, lightweight and breathability. To keep them in excellent condition, it's crucial to follow proper care instructions, such as avoiding fabric softeners or bleach and hang-drying them instead of using a dryer. By taking good care of your cycling jerseys, you can ensure that they last for many rides to come.
A good fit is essential for cycling jerseys, as it can greatly impact both performance and comfort during a ride. At Castelli, some jerseys are designed with high-quality materials to provide a snug and aerodynamic fit, while others are designed to be looser and more comfortable. This means freedom of movement, less wind resistance and reduced chafing and irritation. Finally, it goes without saying that correct size selection is also important for an optimal fit. In this regard, we advise you to carefully consult the size table provided by us.
Breathability is one of the crucial aspects to consider when looking for a comfortable and high-performing cycling jersey, especially during the warm months. When it comes to breathability, the type of fabric used plays a significant role. The use of lightweight and breathable materials such as mesh in side panels allows for optimal air circulation, which in turn promotes efficient evaporation of sweat and heat dissipation. This means that you can stay cool and dry, even during extended rides in hot conditions. Additionally, the excellent breathability of cycling jerseys not only enhances your riding experience, but it also helps to prevent the accumulation of bacteria and unpleasant odors, keeping you feeling fresh and clean.
Aero plays a critical role in cycling as it studies the movement of air around an object. Reducing wind resistance significantly improves a cyclist's speed and performance, making aerodynamics essential in cycling jerseys. Our garments have a snug fit, lightweight fabric, and allow air to flow through. Some have features like strategically placed seams, panels, and textured fabrics that reduce drag and enhance airflow. Aero is vital for cycling jerseys, improving the speed and performance of both professional and recreational riders. Investing in high-quality, aerodynamic cycling jerseys, like our Aero Race 6.0 Jersey for men or our Aero Pro W Jersey for women, can make a significant difference in performance.
While not as important as comfort and performance, many people also consider style when choosing cycling jerseys. Castelli's cycling jerseys are known for their attention to detail and stylish design. Our designs are sleek, modern and minimalist, with the distinctive scorpion logo, instantly recognizable among cyclists the world over, often featured. As for colors, we have a wide range, from black to red, from blue to yellow, that has expanded even more this year. Also, for each color we have different shades among the jerseys. In general, we try everyday to think about new colors that can satisfy the tastes of every cyclist.
Our cycling jerseys have been designed keeping storage in mind for carrying essential items like snacks, energy bars and packable jackets or vests during your long, and especially multiday, rides. The pockets are positioned in a way that does not interfere with the fit or comfort of the jersey. They are also easy-to-access and well-positioned for a high-performance garment that meets practical needs while maintaining an aerodynamic design.